High-performance Multi-unit Laser Displacement Sensors

CD5 Series
Next level integration of accuracy, stability, and operability
Highest-in-class repeat accuracy and linearity

Measurement is possible using only the sensor head

Control unit for use with Mitsubishi Electric PLC is available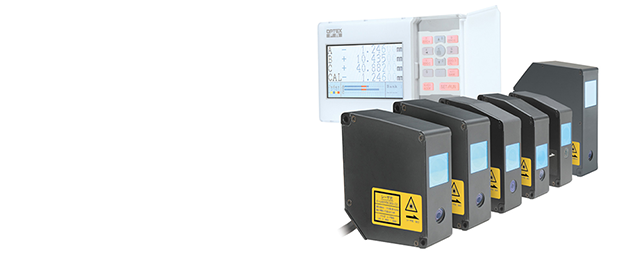 Achieving measurement stability through the newly developed "Tri-CORE" Technology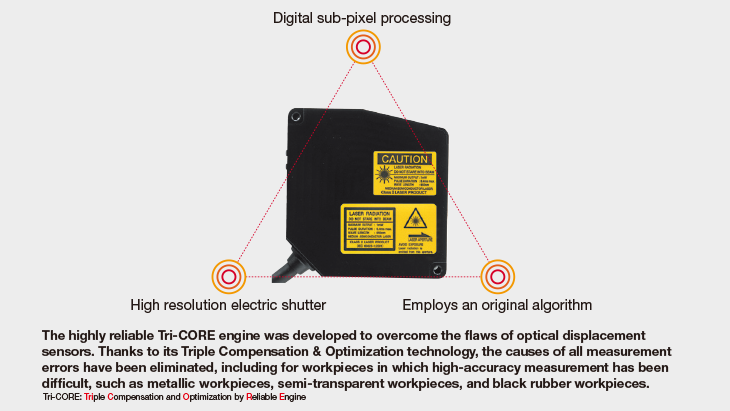 Employs digital sub-pixel processing

True receiving light waveform recognition

Digital sub-pixel processing that performs recognition with 65536 areas per pixel is newly employed. By obtaining a true receiving light waveform, a linearity that is up to twice that of conventional models can be achieved.

Thanks to high resolution electric shutter

Automatic level correction

In addition to featuring electric shutter control with a sampling period of 1/485, receiving light waveforms of a fixed height can be obtained for almost any targets, resulting in a reduction of errors between materials.
For objects with uneven surfaces, colors, and glossy or matte surfaces

Original algorithm

This unique algorithm consistently identifies true peak position even in the case of receiving light waveforms that are stretched to the far side such as in the case of semi-transparent objects, as well as near-peak received light waveforms that become disturbed due to hairline.

By one sensor head

Reliable glass thickness measurement

(In specular mode of CD5-L☐ and CD5-☐30/-85)
Using one sensor head, it can provide highly accurate and stable measurement of glass thickness by simultaneously measuring the front and rear surfaces.
Newly developed sensor head specially designed for high-accuracy measurement
Next level balance between accuracy, speed and sensitivit

High sensitivity linear image sensor

A high sensitivity linear image sensor is employed to capture reflected light from workpieces both with high levels of speed and accuracy. It features 5 times improved accuracy and 10 times increased speed when compared to conventional models.

Low light aberration

"Multi-CLD" lens

The high-accuracy Multi-CLD receiving lens forms highly accurate images from reflected light using a linear image sensor. Using advanced focusing technology in which a camera is also employed, spot distortion caused by errors is significantly reduced.
Multi-CLD: Multi-Combined Low Dispersion
Processing measurement results with high levels of speed and accuracy

High speed processing unit

A high speed processing unit for CD5 series models embedded within the sensor. This enables data obtained from the linear image sensor to be instantaneously corrected and optimized before being output as measured values. With this, we have succeeded in enabling highly reliable measurement results to be obtained with both high levels of speed and accuracy.

Enhanced moving resolution

Wide type

A spot light wide-type that doesn't rely on the surface of measurement targets is now available (CD5-W☐☐). By the results averaged in the widebeam, influences from unevenness are eliminated and highly accurate and stable measurements can be performed.
Eliminates malfunctions even when spot light overlaps

Cross-talk prevention

Cross-talk prevention enables stable measurements to be performed with high accuracy even if spot light overlaps or sensors are close together. Measurements can be performed correctly even for small warpage and tilting of workpieces. Note: Sampling period will be six times longer.

(up to 2 units)

Even in water-filled areas

Featuring IP67 level water-resistance

These sensor heads feature a degree of protection on IP67. This means that they can be used without worry in factories or with devices in which contact with water occurs. Extension cables and connectors also feature a IP67 protection, meaning additional countermeasures for water resistance are not required.


Note: Water or oil that adhere to the optical surface could cause light to refract and prevent measurements from being performed correctly.