Potentiometer type

V2RF series
Simple & cost effective
Potentiometer type

Degree of protection: IP66

Mounting holes for M3 screws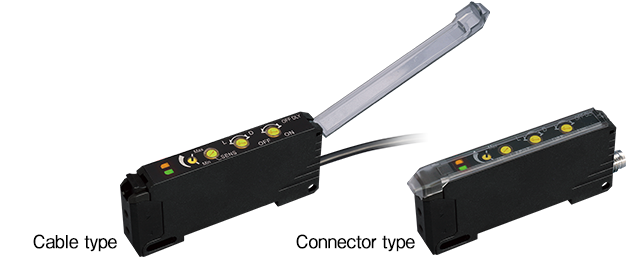 Mounting holes

Features mounting holes for M3 screws. This enables the amplifier to be mounted without use of a DIN rail or mounting bracket.

Degree of protection: IP66

Featuring an IP66 structure uncommon for fiber-amplifiers. Can be used without worry in factories or with devices in which contact with water occurs.
Cable and connector type

Both a cost-effective cable type, as well as a connector type that does not require wiring when replacing sensors, are available.
Simple control panel
Potentiometer with indicator

Features an 8-turn potentiometer. Adjustment to the optimal sensitivity is possible even for applications that require fine adjustments.
Also, if the potentiometer is turned multiple times, the current sensitivity will be difficult to ascertain. However, because the V2RF is equipped with a sensitivity indicator, it's easy to see how much sensitivity is being adjusted.

OFF Delay Timer

Equipped with an OFF delay timer fixed at 40 ms. By extending the pulse width to 40 ms or more, input is possible even for input devices that cannot receive short ON/OFF signals.

Long range detection

With the V2RF series, long range detection is achieved even though it has the same 250 μs response time as the conventional model.
Sensing distance comparison

Model of fiber-unit
Sensing distance of
conventional model
Sensing distance of V2RF
Comparison to
conventional model
Diffuse-reflective type
NF-DS06
(M3, Standard)
45 mm
60 mm
30% UP
NF-DB07
(M3, Coaxial)
55 mm
90 mm
60% UP
NF-DH07
(M4, UP to 200℃)
200 mm
300 mm
50% UP
Through-beam type
NF-TB02
(M3, Standard)
450 mm
610 mm
35% UP
NF-TK05
(φ3, Flexible)
360 mm
540 mm
50% UP
NF-TH12
(M4, UP to 200℃)
220 mm
410 mm
85% UP