Compact Laser Displacement Sensors

CD22 Series
Smallest displacement sensor in class
* Among devices equipped with displays in the 1 μm repeat accuracy class. Optex FA examination performed November 2015.

Newly added amplifier unit that can be connected with CC-Link communication units

Built-in amplifier & digital 4-digit display

Featuring high performance functionality like high-end models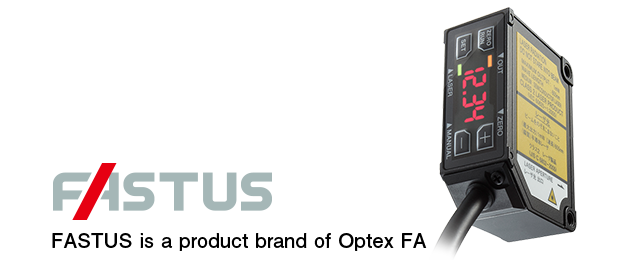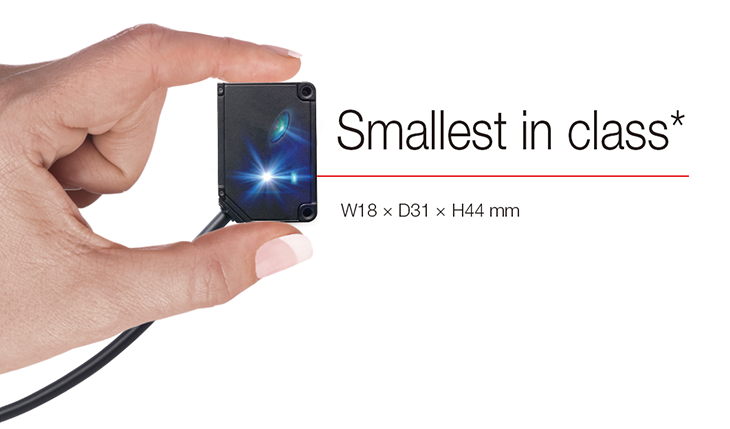 18 × 31 × 44 mm (W × D × H). The FASTUS CD22 series has achieved being the smallest displacement sensor in its class by adopting a new type of hybrid lens for the optical system and by integrating accumulated optical technology. By utilizing Optex FA's know-how regarding the completion of measurement processing inside the sensor head, a feedback circuit that is the same as those on high-end displacement sensors has been equipped within the compact body.
*Among devices equipped with displays in the 1 μm repeat accuracy class.
Optex FA examination performed November 2015.
High-accuracy
With the CD22 series, the causes of all measurement errors can be eliminated even in the case of workpieces in which highly accurate measurements were diffi cult thanks to "Tri-CORE" optimization technology that corrects receiving light waveforms by way of "digital sub-pixel processing", a "high resolution electric shutter" and "unique algorithm".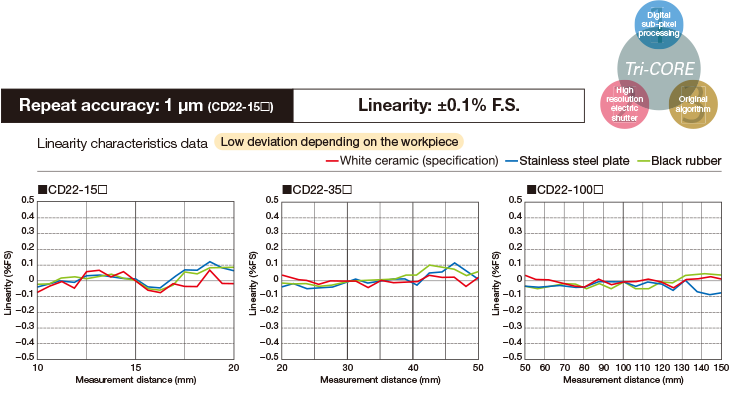 Automatic sampling function

With the CD22 series, in addition to normal receiving light quantity feedback, a "Sampling period: AUTO" mode has also been equipped that automatically adjust the sampling period when there are only low levels of reflected light from the workpiece.
Thanks to this, high-speed measurements of even black workpieces and metal workpieces with low levels of reflected light are possible.

Alarm hold function

Alarms may be generated during measurement due to small holes in the workpiece, etc.
CD22 series models are equipped with an "alarm hold function" that enables the time until an alarm is identified to be set. It is possible to confi gure settings so that an alarm is not generated in the case of small holes, but is generated when there is no workpiece.
Easy to see digital panel

Featuring an ultra-small body and easy-to-see built-in 4-digit digital panel meter.
Confirmation of distance can be performed on the spot and the 4 operation buttons provide multi-functionality while enabling easy operation.

Digital sub-pixel processing
Accurate profile reproduction

The linearity has been improved to more than twice that of a conventional product by digital sub-pixel processing. This divides one pixel into 65536 subpixels.
High resolution electric shutter
Automatic level correction

A high resolution electric shutter that can be controlled to 1/485th of the sampling period helps to insure stable peak level detection even when unstable surface conditions exist.

Original algorithm
For uneven and varied luster object

Even if the object is translucent or its surface is uneven, it can detect the position of the true peak thanks to the original OPTEX FA designed algorithm.