Universal Voltage LED BGS Sensors

BGS-2V Series
Standard BGS model A renewal of the BGS-V series
Dual lens achieves long range detection

Maximum sensing distance of 1 m

Universal voltage type that eliminates the need to choose power supply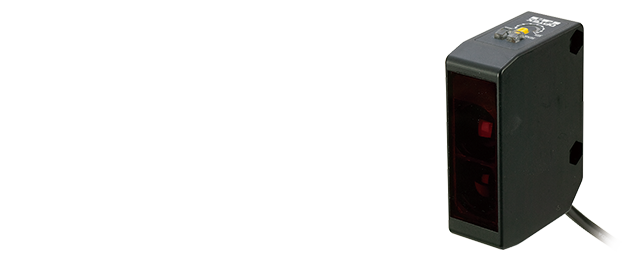 Output status and stability can be
checked at a glance

Easy-to-see dual indicators

In place of the (red) light receiving indicators of the conventional model, the new type has both output indicators (orange) and stability indicators (green). Now it's possible to confirm not only the sensor output but also the detection stability.

Can be used with any voltage

Relay for universal voltage type

Equipped with an IP67 relay that has obtained VDE standard certification. The sensor also conforms to IP67 and the relay inner structure features double dust- and water-resistance. In addition, contact point capacity has been increased to 3 A (at 250 VAC).
Dual lens achieves long range detection
Long range type (BGS-2V100☐)

Because a dual lens is used, LED light is condensed by two lenses.
For that reason, stable light is emitted, making long-range detection possible.
For improved maintenance

Pivot type M12 connector

A connector type convenient for replacing sensors or only cables during maintenance is also available. Ideal for use in cleanrooms where the usage of items such as tools is undesirable.

Easy adjusting

Finely adjustable 2-turn potentiometer

Features a wide distance adjustment range to enable fine distance determinations to be made. Since these models also come with indicators, the adjustment position can be confirmed at a glance.
Water resistant structure

Degree of protection on IP67

Achieves a IP67 level of water resistance. Can be used without worry in factories or with devices in which contact with water occurs.
Note: Water or oil that adhere to the optical surface could cause light to refract and prevent detection from being performed correctly.