SUS Protector and Small LED Sensors

KR-Q/SR-Q Series
Industry's standard of transparent object detection sensor
Stable detection even at close distances

Visible red spot light

Narrow view design which makes detecting through gaps possible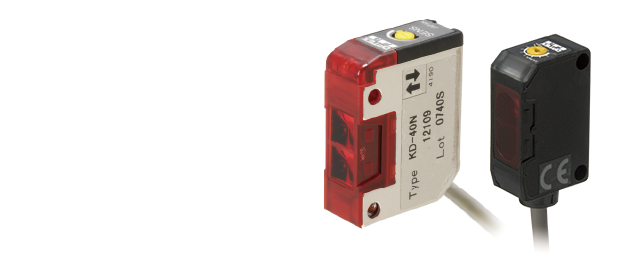 Stable detection even at close distances

Built-in QX circuit (KR-Q50NW)

Stable detection of transparent objects such as film or glass bottles close to the sensor. There is also a refracted light eliminate function to enhance detection of plastic bottles.

Narrow view design which makes detecting through gaps possible

(KR-Q50N)

In addition to a long distance detection of 500 mm, transparent workpieces can also be reliably detected from small holes and gaps.
Surpasses the IEC standards

Built-in on-site noise countermeasure circuit (KR-Q series)

Noise level standards set by the International Electrotechnical Commission (IEC) have been cleared. Additionally, company standards (Feilen Test) further improve reliability against on-site noise.

Visible red spot light

High brightness spot light adopted

The red spot is always clear, without being influenced by the distance adjustment. The reflector shines in red when light axes match, greatly improving work efficiency.
For improved maintenance

Connector type also available

A connector type convenient for replacing sensors or just cables during maintenance is also available. Ideal for use in cleanrooms where the usage of items such as tools is undesirable.

Long range detection of 1 m or more is also possible

Sensing distance: Max. 2.5 m (KR-Q300NW)

A type with an exceptional sensing distance of 2.5 m is also available. Can be used efficiently without changing the step, etc., even when installed on large equipment.
Stable even in locations with small mounting space

Small type (SR-Q50NW)

Downsized even further than conventional sizes. Stands out in locations with a short sensing distance but small mounting space.