Standard-sized LED Sensors

Z3R-Q/ZR-QX Series
Low cost type and coaxial type transparent object detection sensor
Long range detection at 2 m

Uses red LED for simple light axis adjustment

Industry standard size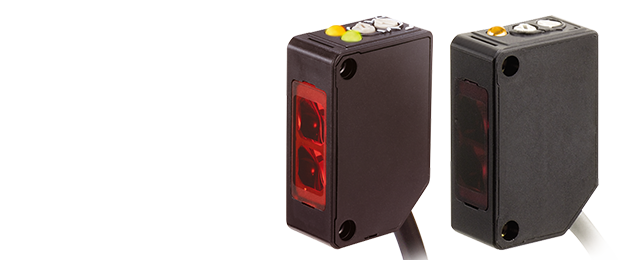 Can be mounted vertically or horizontally
Coaxial type: ZR-QX200☐
Since the light axis of both the receiver and emitter are a coaxial structure, there is no need to take into account the sensor mounting direction or workpiece movement direction. As an LED light source transparent object detection sensor, it boasts top of the line detection stability.
Uses a 4 element red LED for the light source

High brightness 4 element LED: Z3R-Q200☐

Because the decreases in emitted light that occur over time are low in the case of 4 element LEDs, this means that stable detection is possible over long periods of time.

Easy adjustment of light axis

Unlike infrared light, light reflected brightly at the reflector, enabling light axis adjustments to be performed quickly.
Degree of protection: IP67,
Shock resistance: 100 G

Its integrally molded structure enables all models to conform to IP67 and achieve a shock resistance up to 100 G. It doesn't break even when wet and can be used in locations where vibrations are generated.

Standard specification size

Features an industry standard pitch of 25.4 mm.