Laser Displacement Sensors

CD2H Series
Best-in-class*, All-in-one Middle-range Sensors
Highest-in-class* Repeat Accuracy

Fastest-in-class* Sampling Period

Measurement in a long distance up to 1,200mm

Received light waveform can be displayed on OLED Display.

*Among laser displacement sensors with the repeat accuracy of 1μm
(Investigated by OPTEX FA in November 2021)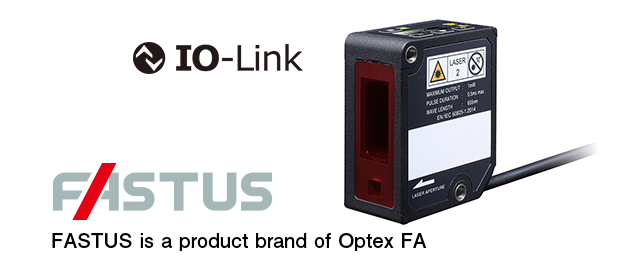 Highest-in-class*Repeat Accuracy and Sampling Period are achieved by originally developed ultra-sensitive C-MOS image sensor.
These features contribute quality improvement and faster operation of production lines in a broad range of manufacturing.

CD2H Series is the C-MOS Laser Displacement Sensor that achieves the Fastest-in-class Repeat Accuracy of 0.25μm and Sampling Period up to 133.3μs.
The long-range models that are capable to measure in a distance up to 1,200mm can be used in a wide range of application, such as measurement of a sheet-roll diameter and stack height.
The OLED display and IO-Link are supported as standard.
These are high-performance displacement sensors that support measurement requirements for high accuracy.
*Among laser displacement sensors with the repeat accuracy of 1μm
(Investigated by OPTEX FA in November 2021)
Reasons for first-in-class performance
Equipped with the ATMOS image sensor
The Best-in-class preformation is achieved by the ultra-sensitive ATMOS image sensor that was originally developed for the most advanced displacement sensor, CDX Series.


ATMOS: Auto Tuning C-MOS
Feedback-free high-speed shutter
The unique algorithm realizes measurement without feedback process.
Real-time measurement is realized, as momentary errors of measurement and delay in response are eliminated.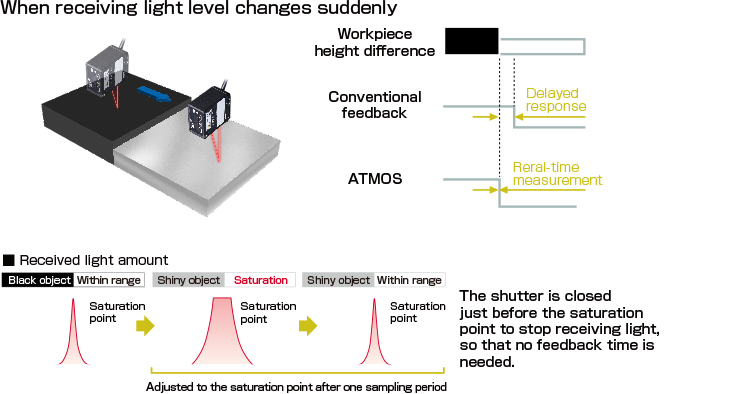 Fastest-in-class Sampling Period*

Highest-in-class Linearity*
This is especially effective for measurement in a long distance or wide range.
Long distance 700mm type:±0.1% of F.S.(200~700mm) /±0.3% of F.S.(700~1200mm)
*Among laser displacement sensors with the repeat accuracy of 1μm
(Investigated by OPTEX FA in November 2021)
Visualized various data on the display
Easy-to-read OLED display
Improved
visibility
Improved
operability
Menu texts can be displayed in 7 languages.
Display of measurement values can be selected among 3 modes of relative value, analog output value and bar graph.
Maintenance data, such as internal temperature and total operating time, can be, also, displayed for predictive maintenance.

Waveform of received light can be displayed
Monitoring of waveform helps to check amounts of received light and an installation angle.
The masking function of unwanted ambient light is, also, available to reduce such interference.

Wide lineup of measurement ranges
Narrow measurement ranges of displacement sensors have required to adjust installation or model of the sensors to measure the distance to objects.
CD2H-700 with the longest distance of measurement range of 700+/-500mm reduces work and time of setup changes.