Resin-filled Sensors

J Series
Water resistant/vibration resistant resin filled and robust body
Passed 100-hour test for water and oil resistance

Achieved a level of vibration resistance far above that of JIS standards

Mounting hole pitch: 10 to 25.4 mm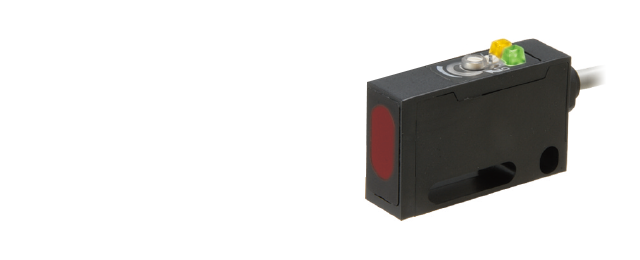 Passed 100-hour test for water and oil resistance

Degree of protection on IP67g

It features highly reliable and robust housing for any environment. It also passes IP67g (JEM standard).

Excellent compatibility for various types of mounting brackets

Flexible mounting holes with an elongated hole

Flexible mounting is possible using holes whose pitch was altered during machining or holes that were already made. Also, the sensor can be mounted on various brackets for M3 or M4 screws.
Vibration resistance far above that of JIS standards
Resin filled internal structur
The resin evenly distributed inside the sensor securely protects electrical parts from vibration. In addition, it has passed vibration resistance tests of 100 hours or more. This allows for safe installation in areas with severe levels of vibration.
Wide angle emitting

Wide angle diffuse reflective type

The wide angle diffuse reflective type, which can detect over an area 10 times or more than that of the diffuse-reflective type, has simplified and enabled signal processing which had to be done at post-processing as well as types of detection that were not possible or were unstable until now. It can also detect transparent objects without use of a reflector.

Stable detection of glossy objects equivalent to that of through-beam types

Retro-reflective type

Polarizing filter is built in. Detection of mirror is possible.
Small spot size red light

Limited diffuse reflective type

Spot size: ø2.5 mm at 30 mm distance. Optimal for small object detection.