BGS With C-MOS Image Sensor Type

BGS-DL Series
High Repeat Accuracy BGS Sensor Utilizing C-MOS Image Sensor
C-MOS linear Image Sensor

Automatic sensitivity adjustment function

FGS mode is available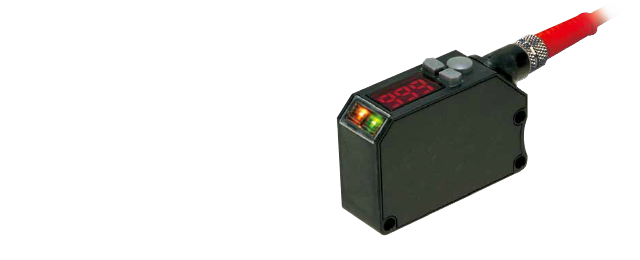 Pushbutton Teach with Fine Adjustment
In addition to a Teach button there are also two threshold adjustment buttons. Fine adjustments can be made to the threshold value after Teaching by using the adjustment buttons.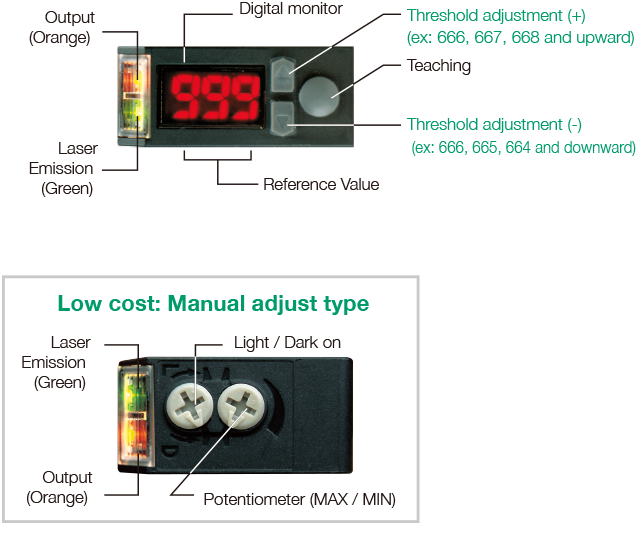 Timer functions
The pushbutton teach models of the D series have built-in Timer functions for added flexibility.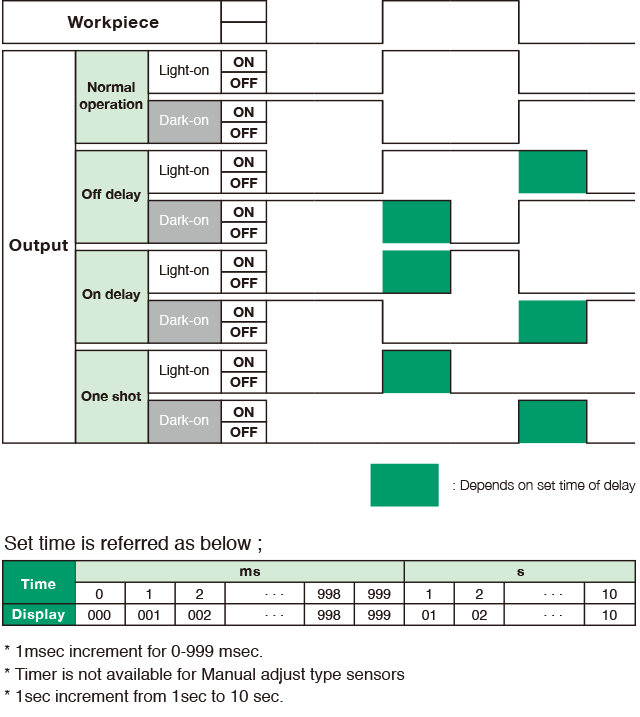 Remote Input
The DR-Q and BGS-DL sensors have a Remote Teach input that can be used to remotely set the sensor sensitivity.
Class 2/Class II IEC, FDA Regulation
The D series conforms to Class 2 (IEC) and Class II (FDA) regulations.
BGS-DL series
The world's first Laser / BGS with CMOS Image Sensor
BGS (Background Suppression) type sensors are the most accurate method of diffuse sensing, BGS sensors are able to detect objects without being influenced by either the background or the color of the workpiece. A conventional LED - BGS sensor is accurate, but a Laser CMOS - Laser BGS sensor is able to detect black and/or highly reflective surfaces reliably.
Great combination ; Laser and CMOS Image
Sensor shuts out environmental influence.
CMOS Image Sensor system can detect light quantity at each CMOS pixel under well controlled shutter speed, therefore it sharply detects the peak value in the viewfield of sensor while PSD detects mean value of peaks as shown below. Actually it means CMOS Image Sensor System is the ideal way for such objects having reflecting and/or rough surface.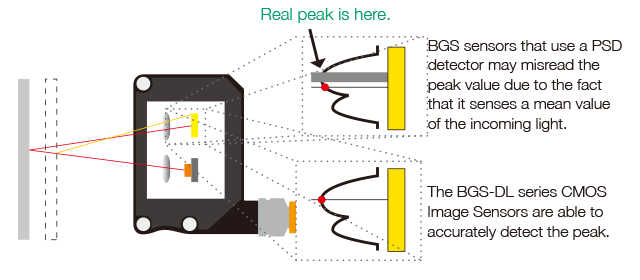 FGS Function is the best solution for
detecting objects on the conveyor.
The BGS-DL sensors also have FGS function built-in. The FGS sensor detects any objects, thin, black, rough and reflective, on the surface of the conveyor.