C-MOS Laser Type

BGS-DL Series
High detection stability by using C-MOS element
C-MOS linear image sensor

"SEN" automatic sensitivity control function

Equipped with FGS mode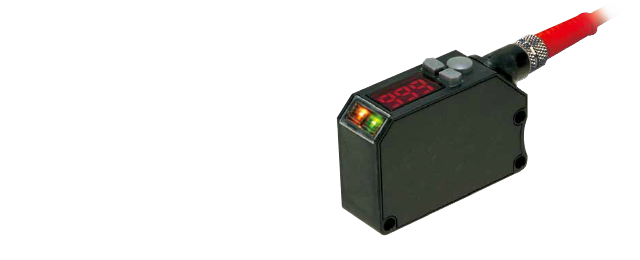 Lineup
Type
Shape
Sensing distance
(Adjustable distance range
shown in parentheses)
Distance adjustment
Model
(Models in parentheses are connector types)
NPN type
PNP type
C-MOS laser

Teaching
+
Manual adjustment
BGS-DL10TN
(BGS-DL10TCN)
BGS-DL10TP
(BGS-DL10TCP)

Teaching
+
Manual adjustment
BGS-DL25TN
(BGS-DL25TCN)
BGS-DL25TP
(BGS-DL25TCP)
•For the connector type, please purchase an optional JCN series connector cable.
Specifications
Type
C-MOS laser sensors
Model
NPN
Cable type
BGS-DL10TN
BGS-DL25TN
Connector type
BGS-DL10TCN
BGS-DL25TCN
PNP
Cable type
BGS-DL10TP
BGS-DL25TP
Connector type
BGS-DL10TCP
BGS-DL25TCP
Sensing distance
20 to 100 mm*1
20 to 250 mm*1
Adjustable distance range
40 to 100 mm*1
100 to 250 mm*1
Light source
Red semiconductor laser Class 2 (IEC/JIS)*2
Wavelength: 650 nm
Pulse width: 300 μs Maximum output: 1 mW
Spot size
Approx. ø1 mm
At distance of 80 mm
Approx. ø2 mm
At distance of 200 mm
Response time
1.5 ms (when sensitivity is fixed),
Max. 14 ms (when sensitivity is in Auto)
Hysteresis
3% or less
10% or less
Distance adjustment
Teaching type
Threshold adjustment
Manual adjustment is possible after teaching
Indicators
Output indicator (orange) Laser emission indicator (green)
Digital display
7-segment, 3-digit display
Control output
NPN/PNP open collector Max. 100 mA/30 VDC
External input
Laser OFF input or teaching input (selectable by setting)
Timer function
ON delay / OFF delay /One-shot 0 to 999 ms
(setting is possible in 1 ms increments),
1 to 10 s (setting is possible in 1 s increments)
Output mode
Light ON / Dark ON selectable by setting
Connection type
Cable type: Cable length: 2 m (ø4 mm) /
Connector type: M8, 4-pin
Insulation resistance
20 MΩ or more (with 500 VDC)
Rating
Supply voltage
10 to 30 VDC, including 10% ripple (p-p)
Current consumption
50 mA max (12 V), 35 mA max (24 V)
Applicable regulations
EMC directive (2004/108/EC) /
FDA regulations (21 CFR 1040.10)
Applicable standards
EN 60947-5-2
Company standards
Noise resistance: Feilen Level 3 cleared
Environmental resistance
Ambient temperature/humidity
-10 to +40℃ / 35 to 85% RH
Ambient illuminance
Sunlight: 10,000 lx or less Incandescent light: 3,000 lx or less
Vibration resistance
10 to 55 Hz; double amplitude 1.5 mm;
2 hours in each of the X, Y, and Z directions
Shock resistance
Approx. 50 G (500 m/s2);
3 times in each of the X, Y, and Z directions
Degree of protection
IP67
Material
Housing: ABS Front cover: PMMA
Weight without cable
Approx. 20 g (excluding cable)
Included accessories
Mounting bracket: BEF-WK-190
*1. Using a 100 × 100 mm white sheet of paper.
*2. Classified as Class II in the US FDA standards.
Distance adjustment

•To adjust threshold using the buttons, press the Up or Down button one time. Doing so will result in the status display showing the threshold, which can be adjusted when flashing by using the Up and Down buttons. Pressing Teaching Mode will result in a return to Run Mode. (Even if Teaching Mode is not pressed, a return to Run Mode will occur after 10 sec.)