M18 Cylindrical Sensors

C2 Series
Standard M18 Threaded Type Sensor
Selectable metal or plastic enclosure

Rich lineup of over 100 variations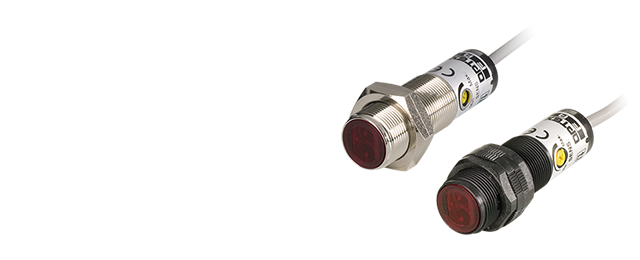 Custom ASIC with Power Circuit

The electronic circuit consists mainly of Optex FA's custom ASIC with only 27 electronic components. The ASIC contains power circuit and this helps to avoid defects by electric damage from the power line.

Potentiometer of Silicon plastic for high durability against chemical impact.

The potentiometer is tightly sealed against water with IP67 rating.
Silicon plastic potentiometer is the best solution against water, oil, chemical and environmental heat.
Hysteresis of Max 10%.
Between black/white colors.

Between black/white colors, hysteresis is Max at 10% (Diffuse type). C2DM-11 gives a sensing distance of 110mm for white object and 90mm for black object.

Nickel coating of 20μm thickness for anti-rust solution.

Metal type consists of brass-nickel housing with extra nickel coating of 20μm thickness. This coating is done for the external and internal of the housing. It helps protect the metal housing against rust.
Easy Alignment and installation

Ample sensing area provides easy alignment when installing the through-beam sensor. For instance, there is an allowance of 700 mm to align optical axis at 10 m distance. The highly bright LED is visible at long distance as well.

Durable to 70N (7kg) of tension

The cable is firmly fixed to the internal circuit board so that it can withstand pulling tension of up to 70N (7kg).
BGS type sensors

BGS type sensors are designed to detect any target regardless of the color and/or background.