Digital Amplifier and Modular Laser Type

D2SA Series
Sensor Heads Separated from Amplifier are Small and IP67 Rating
Various type of sensor heads for applications

Visible red laser sensor

Co-axial structure DSD-100 diffuse type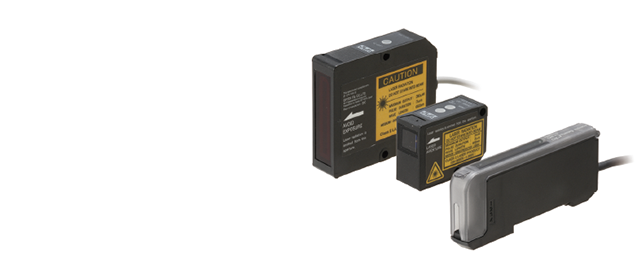 Amplifier
The Interconnect Type Amplifiers (Master: D2SA-M, Slave: D2SA-S) can be connected in parallel to provide Cross-talk prevention as well as to transfer settings.
It is possible to connect a maximum of 30 amplifiers together. (12VDC @ 40℃ ambient or less)
2 Amplifier Types (Standalone & Interconnect)
The Interconnect Type amplifiers are convenient when using multiple D2SA amplifiers in parallel.
8 amplifiers can be connected together if the ambient temperature does not exceed 50℃.
The Interconnect Type amplifiers automatically provide Cross-talk prevention for up to 4 amplifiers.
The D2SA series amplifiers can be connected to Optex-FA's D2RF series fiber optic amplifiers.
Programmable external input

The External input can be programmed to operate in one of the following modes.
・Remote teach
・Synchronizing signal input
・Laser OFF
・Counter reset

2 Independent outputs & Analog

2CH models have two digital outputs for control and/or alarm, there is also a 4~20 mA analog output. The external input can be configured to operate as needed.
Dual Digital Display

The Threshold value and the Reflected Light level are both indicated at the same time, setting the sensitivity is easy.

Counter Mode

The output turns ON when the count value reaches the preset number.
The preset number can be reset by remote teach
Response Time

Select the sensing distance and response time based upon your application.

e-con, the easy connection

Just snap-in the e-con to connect to amplifiers. All the sensor heads are connectable to any amplifier with the preset e-con mechanics.
IP67 water tightness

All the DS Series sensor heads secures IP67 Water tightness with its rugged housing.
A choice of 6 convenient Teach functions to solve any application.
Single Point Teach

Use this teaching mode when no target is present.
Set the threshold so the sensor does not detect the background.

Two Point Teach

This is the basic setting method for the DSD-100 Diffuse Reflective type sensor. First teach with the target present and then teach the background.
The threshold is then set between the target value and the background.
Transparent Object Teach

This mode is only for the DSR-800 Retro-Reflective sensor.
Teach without the target present so that the sensor is set to the maximum sensitivity, the DSR-800 is able to easily detect transparent film, bottles, glass, etc.

Automatic Teach

In this mode there is no reason to stop the conveyor. It is possible to teach the sensor while the product is running.
Zone Teach

Select the detection area. Use the Up / Down buttons to set the area within +/- 10%. After teaching this area can be increased or decreased by adjusting the settings.

Judgement Teach

This function is exclusive to the DSTA-200 wide beam measurement sensing heads. Used to judge the size and width of a target within +/- 10% of the specified size. Even if the object position changes the sensor will detect it, so this is actually Area Teach.