Digital Amplifier Separate Type

DS Series
Water resistant sensor head usable even in water-splashing areas
Various sensor heads

Visible red laser

Coaxial reflective design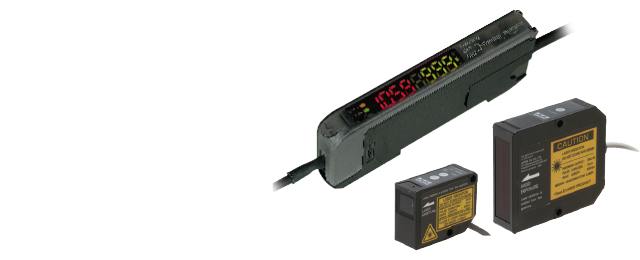 Various sensor heads
Five types of sensor heads for various applications are available. Because the spot light size remains hardly changed at any distance, you don't have to worry about light spreading. Also, if a lens attachment is installed to a coaxial retro-reflective type, the beam can be focused as a line or spread across an area.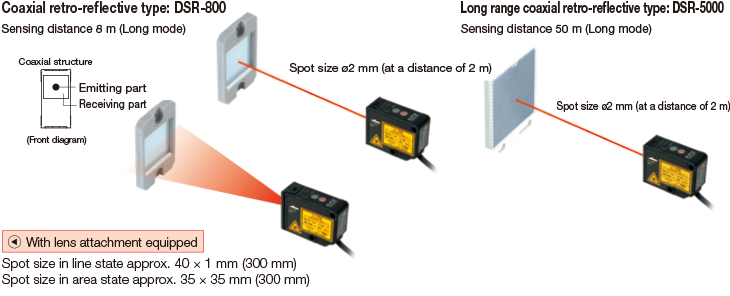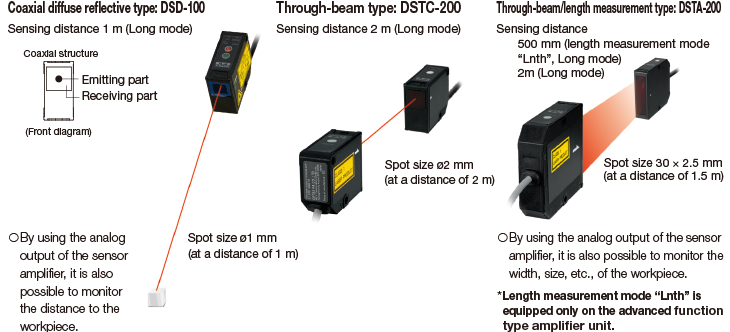 Degree of protection on IP67

All sensor heads have achieved a degree of protection on IP67. Sensor breakage will not occur even if direct contact with water is made.
* Water or oil that adhere to the detection surface could cause light to refract and prevent detection from being performed correctly.

Visible red laser

A visible red laser of laser class 2 is employed as the light source (through-beam type and throughbeam/length measurement type are Class 1). Since the spot light can be seen, adjustment of the light axis is simple.

Sensitivity correction setting function

When higher receiving light quantity and longer sensing distances are necessary, the receiving sensitivity can be corrected by turning ON the sensitivity correction setting, which will enable stable detection to be performed.
Operation
Dual display
Displaying the threshold and receiving light quantity side by side enables sensitivity adjustments to be performed quickly and easily.

By linking master and slave units, wiring can be reduced and cross-talk can be prevented (inter-connection types only)

Connecting up to 4 amplifiers, stable detection with reduced wiring and no cross talk is possible. (Up to 8 units can be connected if cross-talk prevention is not used)
In addition, connecting with the fiber amplifier D2RF series is also possible.
* For the response time when connected, set Long mode or Standard mode.

Counter function

Features a built-in counter function in which the output turns ON when the count value reaches the preset number.
Counter resets can also be input externally.
Extensive input and output
External Teaching input

Teaching can be performed externally without operating the sensor unit.

Laser OFF input

Laser can be turned to OFF except when necessary.
(Excluding standard type amplifier unit cable type)
Synchronous input

Output signals from another sensor can be directly input to the sensor amplifier as simultaneous signals.

Equipped with two control outputs and one analog output.

Advanced function type amplifier units D2SA-MNS, D2SAMN and D2SA-SN are equipped with two control outputs and one 4 to 20 mA analog output. Precise control depending on the receiving light quantity can be performed by one amplifier.