LED Lighting Controller Advanced

OPPF Series
Increased capacity with up to 48 W in PWM mode and up to 24 W in strobe mode
"FALUX sensing" for monitoring brightness and temperature monitoring and for controlling feedback

Support for RS232, parallel, and 0 to 5 V analog input for external dimming control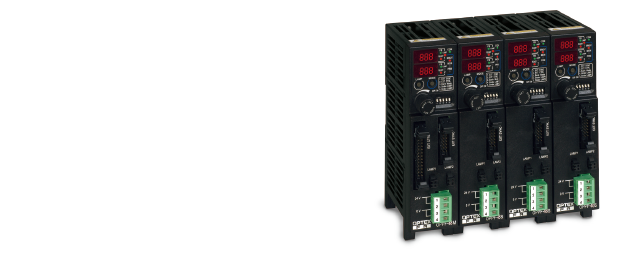 Support for both PWM dimming and strobe illumination
PWM mode
High-brightness settings with 1,000 dimming steps are possible with a PWM frequency of 100 kHz.
Lighting with up to 48 W total for 2 LAMP outputs can be connected. (Max. 30 W per channel)
Strobe mode
High-brightness settings with 1,000 dimming steps are possible.
In addition, 1,000 steps with light emission widths from
10 μs to 9.99 ms at 10 μs intervals can be set.
The minimum settable light emission width is 1 μs
(light emission width: 10 μs, dimming setting: 10%).
Light emission widths of 1 ms or less offer 3 times the brightness with 18 V overdrive output.
Lighting with up to 24 W for each LAMP output can be connected.
●Voltage of approx. 6 V is applied while the lighting is not lit in order to drive the internal circuit of the lighting. The LEDs will not be illuminated in this case.

●In order to superimpose the communication signal, DC lighting is not initiated even with 100% dimming.

Connect lighting equipped with "FALUX sensing" to monitor brightness and temperature and to control feedback

Monitoring function
●Accurately measure brightness not only during continuous illumination but also with illumination control and strobe illumination.
●This makes it possible to output an alarm when brightness decreases to a predetermined value.
●Absolute brightness monitoring makes it possible to adjust for lighting instrumental errors.
●In addition to brightness, measurement of internal temperatures is also possible.
Feedback (FB) control

●FB control eliminates not only variations over long periods but also the need to perform periodic adjustments to the dimming setting. By comparing the measured emission brightness with the lightings recorded reference brightness, FB control fine tunes the output voltage to match the standard brightness.
●FB control also allows for compensation of reductions in brightness due to a voltage drop in the extension cable.
●A signal is output as a feedback error when the upper or lower output voltage adjustment limit is reached.

・Output voltage
PWM mode: 11 to 18 VDC
Strobe mode: 16 to 22 VDC

・FB accuracy: ±1.5% or less (typ.)
The OPPF Series not only provides power for illuminating lighting from two conventional main line cables but also superimposes lighting and communication signals. This allows for conventional use even with lighting that is not equipped with "FALUX sensing".
External dimming control

Using RS232 communication and external pulse input, centralized dimming control of all lamps is possible from the master device. Dimming is possible by 0 to 5 V analog input to the individual lamps of each unit

External dimming control

・ Pre-set dimming values can be configured and saved in the main unit, allowing for switching between dimming values with fewer inputs.
・ Up to 16 banks can be registered for each LAMP.
・ In addition to settings from the operation panel, switching is also possible through external parallel input and RS232 communication
Multi-channel support

・ With 2 channels per unit, support for up to 8 channels is possible by linking (DIN mounting) 3 master and slave devices.
・ Communication between units is connector-less and uses infrared.
・ A setting copy function allows settings to be batch copied to all channels.
・ Connecting a single slave device or just a slave device is possible.

Surprisingly low price for provided functionality

・ Progressively expanding functionality to meet the diverse needs of customers.
・ Even with these functions, prices are kept lower than general-purpose power supplies.
・ Lowest price range available for strobe-equipped devices.