Long Range with Narrow FOV Thermometers

PT-S80/PT-U80
Striving for "easier readability" "convenience"
EL backlight mounted on liquid crystal part

Recorded data can be sent to and received from PC via USB
(PT-U80 only)

Long focus design that can be measured away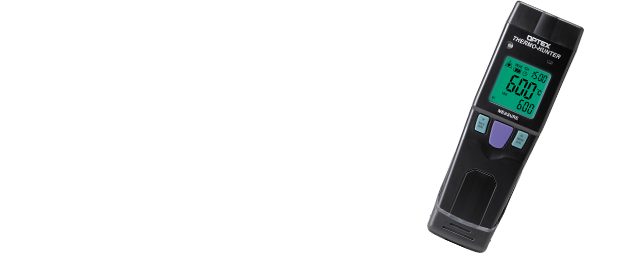 Striving for easier readability

The product's LCD is equipped with an EL backlight to make measurement results more easily readable.
In addition, the large-size LCD screen includes a three-area display for a brighter, bigger presentation of information.
Designed to be energy-efficient, the EL backlight includes an illuminance sensor that automat

In the pursuit of convenience

In order to make the most effective use of measured data, the PT-U80 is equipped with a function that allows data recorded onto the unit to be transmitted to a PC via USB.
The captured data can then be applied to a report form prepared in advance for easy report creation.
Configuration of various settings and performing various operations on the PT-U80 can also be done from the PC.
Access the Optex FA homepage to download the necessary PC software.

Dedicated software is downloaded from here and used.
Dedication to being easy to understand

Knowing an exact measurement point is difficult if the location of the laser pointer is not in line with the actual measurement point.
The PT-80, however, is equipped with a coaxial laser marker (PSC-certified high-brightness laser) that provides a constant red dot at the center of the measurement area.

Dedication to enabling simple measurement

At a distance of 1 m, the PT-80 measurement area is 30 × 30 mm. At a distance of 5 m, the product's long-focus design provides a measurement area of 150 × 150 mm.
This enables safe, reliable measurement even in situations where approaching the target can be dangerous.