M18 Cylindrical Sensors

C-R Series
Best-in-class robust and powerful
Large sensing distance

Full-metal housing in brass

Easy to Align even the long distance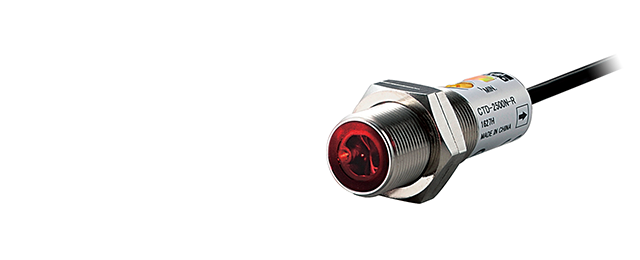 New C-R Series
Cylindrical photoelectric sensor with long-distance detection, robustness, and excellent usability.

The new C-R Series has much higher performance than conventional models, and is more easy-to-use.
This is a new generation photoelectric sensor with the high detection performance, cost performance ratio, and robustness that are required of cylindrical sensors.
Large Sensing Distance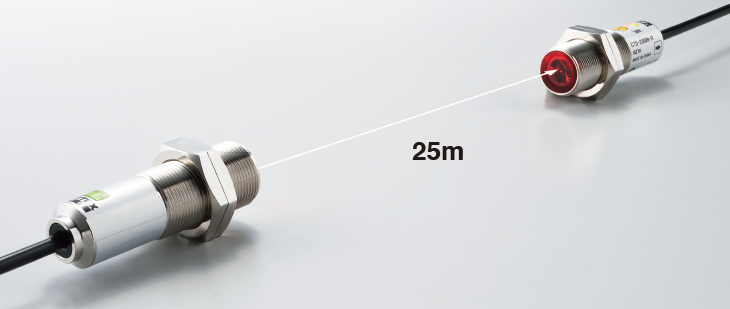 Achieved 25m detection distance, the longest for through beam types! Meets the need for long-distance application.
Hotmelt molding
High vibration resistance

Hotmelt molding enables high vibration resistance up to 100Hz, 8 hours. (For details, see Specification)

Watertight:IP67

The C-R Series meets the conditions for the watertight IP67 rating.
Can be used on work sites or devices that are exposed to splashing water such as the food and beverage industry.
Full-metal Housing in Brass
Robust design

In the conventional model, the tip and the end of the housing were made of plastic.
New C-R Series achieved the high robustness by full-metal housing.
Easy to Align even the long distance
Visible red LED

Red LED, which allows easy alignment, has been adopted for all models as the light source. The spot beam location is visible, reducing the time required for alignment.
In addition, spot beam flare is minimized, which improves the visibility when compared to conventional models.
Front Output Indicator is equipped on the receiver (Through beam type)

Output indicator is equipped not only on the side of the receiver, but also on the front. When panning the emitter for alignment, the ON/OFF state of the indicator is visible from the emitter side, so alignment can be performed more easily by a single operator.