Standard-sized Sensors

Z2 Series
Cost effective and Eco-Friendly
Low price achieved by equipping our unique Opto-ASIC

Employs a newly developed 4 element red LED light source

Ultra-low current consumption

Easy-to-see indicators and operating panel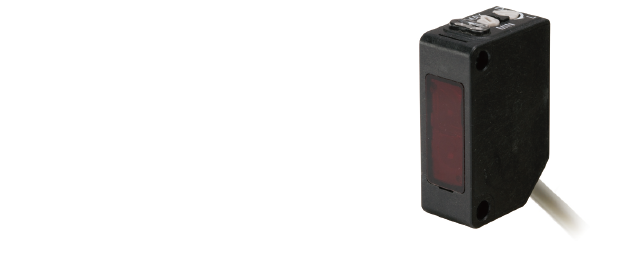 Achieved by our unique Opto-ASIC
Realized unprecedented price reduction
We've succeeded in lowering costs through in-house development of the chip-on-board Opto-ASIC, in which both a switching circuit and light receiving element have been integrated.
Employs a newly developed high-brightness 4 element LED
Longest sensing distance in the class!
Equipped with a newly developed 4 element red LED light source. In addition to minimizing the decreases in emitted light that occur over time, it features a through-beam type sensor with a longest-in-class 25 m sensing distance! Not only is detection over long distances possible, but it is also tolerant against dust and fine particles.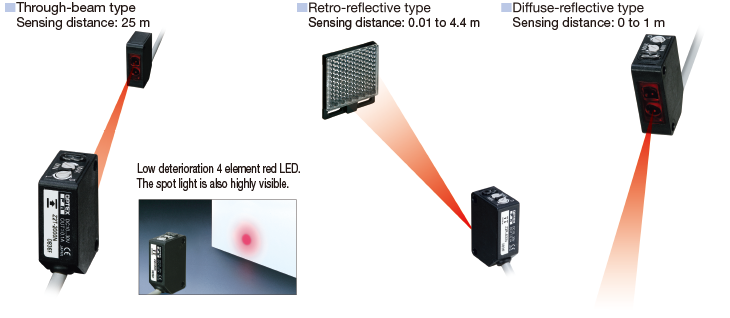 Eco-friendly

Ultra-low current consumption

Power consumption reduced by 35% *, contributing to the eco-friendliness of all devices and machinery.

Enhanced operability

Easy-to-see indicators and operating panel

The indicator part is equipped with a cover featuring an inner-surface reflecting structure. The cover surface does not diffuse light, but instead improves visibility by reflecting light in multiple directions internally. Also, silk printing has been used for the operating panel. This is a user-friendly design that enables labelling to be easily seen even in dark areas.