LED Lighting Controller

OPPD-15 Series
1/12 the size of conventional models
Easily visible digital display

Full synchronization between external illumination control input and PWM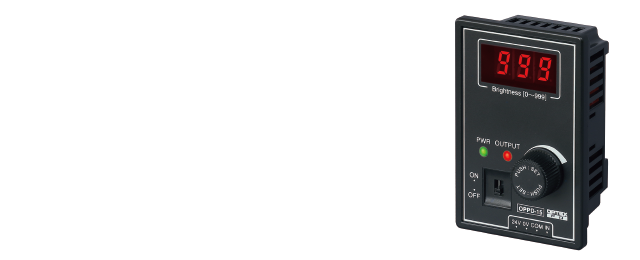 ■200 steps even with a PWM frequency of 500 kHz thanks to 100 MHz operation clock ultra-high-speed digital control

With conventional models, 32 steps at a PWM frequency of 500 kHz is typical. However, with a 100 MHz operation clock capable of ultra-high-speed digital control, OPPD Series controllers are capable of up to 200 steps at 500 kHz, more than 6 times that of conventional models, the industry's highest specification. The OPPD Series can be used for high-precision dimming control in high-speed inspection lines with short shutter speeds as well as with high-speed line cameras with high capture speeds

■Industry's highest PWM frequency at 1 MHz

New models with a further improved PWM frequency of 1 MHz are now available. At a frequency of twice that of 500 kHz models, light intensity variation has been reduced by half. Dimming is possible at 64 steps.

■Compact, industry's smallest class size!

Thanks to high-density mounting technology and an optimal heat dissipation design, the OPPD Series boasts a size just 1/12 that of conventional digital dimming products. Devices are compact and palm-sized at only W48 × H72 × D30 mm.

■Easily visible digital display with 1,000 dimming steps!

The OPPD Series features an easily visible digital display with 1,000 dimming steps. Pushing the dimming dial to select the digit to adjust. This makes it possible to configure up to 1,000 steps quickly. In addition, operation can be locked by pressing and holding the push button.

Save dimming values to internal memory

By storing the dimming value in the built-in EEPROM, the value will be retained even if the power is turned OFF. When the line stops, the dimming value will not be lost even if the main equipment power is turned OFF to save energy.
■No changes in brightness thanks to full synchronization between illumination control input and PWM
Even with fast shutter speeds, illumination is synchronized when using external input lighting, eliminating variations in brightness.