Separate Thermometers

BS Series
Set-up sensor amp separate type
IP67 waterproof sensor head

Heat-resistant up to 150°C (302°F)
(with use of optional accessories)

Built-in easy-to-configure digital display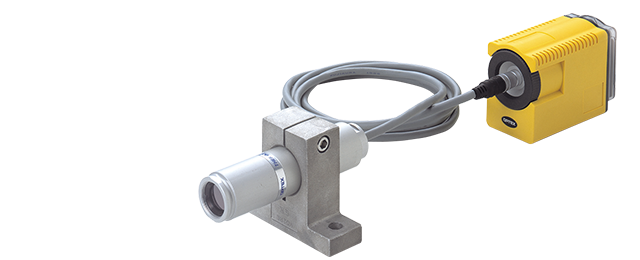 Sensor/amplifier separate type for flexible mounting

The sensor/amplifier separate design provides improved environmental resistance.
The compact sensor features a stainless-steel body and a special steel structure for IP67-level waterproofing. A detachable connector cable is used between the sensor and the amplifier.
This design reduces the effort needed for changing the installation location or when performing maintenance.

Built-in easy-to-configure digital display

The amplifier of the BS series is equipped with a digital display.
The digital display allows users to easily check various function settings and measurement values.
Simple emissivity adjustment: Teaching function

This product is equipped with a TEACH function that allows users to calculate and store emissivity automatically by inputting a temperature. This allows for drastic reductions in time spent on configuring settings.

Two types of analog output

The lineup includes a voltage output type that can be easily connected to a panel meter, and a current output type that is ideal for long-range transmissions. Users are able to select the desired type when selecting a model.
IP67 waterproof sensor head
In harsh manufacturing lines, water and dust can cause sensors to fail, so environmental resistance is a must.
The BS series is the first thermometer in its class to offer IP67 waterproofing and dustproofing.
Heat-resistant up to 150°C (302°F) (with use of optional accessories)
(BS-30T / BS-05T only)
Using the optional BS-WP1 air purge/water-cooling jacket provides even greater environmental resistance.
With water-cooling, the product can handle temperatures up to 150°C (302°F). The BS-WP1 can also be used for air purging, where air is blown onto the lens to protect against dust and dirt.
ø2 mm fine-spot measurement with precise laser-marker sighting(BS-02T only)
This product features a field of view designed for measurement of heat generated by objects as small as ø2 mm.
In addition, the built-in coaxial laser marker points directly to the center of the field of view, ensuring the point of measurement is clearly visible. This means aiming is accurate even with minute targets in addition to easier sensor positioning during installation.