Separate Thermometers

BS Series
Set-up sensor amp separate type
IP67 waterproof sensor head

Heat-resistant up to 150°C (302°F)
(with use of optional accessories)

Built-in easy-to-configure digital display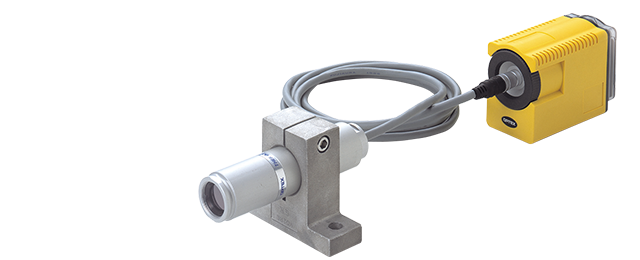 Precautions when using stationary-type thermometers
General notes
• Be sure to read the instruction manual thoroughly before using the product.
• This instrument is not a thermometer for taking body temperatures. It is not intended for use in medical practices.
• Sudden changes in ambient temperature can cause measurement errors. Please ensure the product is not subject to sudden temperature changes during use.
• Do not use the product near objects that generate strong electromagnetic waves, or in environments with corrosive gases or explosive gases.
• Use only the rated power supply with the product. Using the product outside of the 12 to 24 VDC range may cause malfunction, shortcircuiting, fire, or injury.
• Do not touch the product to the measurement target. This product is a non-contact thermometer. Contact with a high-temperature surface may result in deformation, the need for repairs, and measurement errors.
Fiber-type thermometers [Applicable products: BF-30I-A]
Handling fibers
• This product uses glass-type optical fiber. This type of fiber is highly susceptible to bending, impacts, and other factors. Be sure to strictly adhere to the following usage guidelines.
• Do not pull on the fiber.
• Do not subject the fiber to impacts.
• Do not bend at a radius of 50 mm (100 mm diameter) or less.
Situations where measurement may be difficult
• When measuring a mirror-like surface such as shiny metal.
* Measure after attaching optional accessory HB-250 or after creating a matte finish using paint or the like.
• When measuring through glass.
Laser beam [Applicable products: Products with laser markers/optional accessories only]
• This product uses a Class 2 laser that conforms to IEC 60825-1.
• Use the product according to the affixed warning labels.
Exporting
Laser warning labels
• Product specifications may differ slightly depending on the laws and compliance standards of the export destination country.
Contact us for details.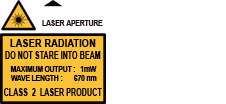 CE mark
• All Optex FA non-contact thermometers are available with CE compatibility.

Product warranty/Calibration
• The manufacturer's warranty will be valid for one year following the date of purchase.
• Contact us for inquiries regarding calibration services.