Transparency Detection With CMOS Image Sensor Type

DR-Q Series
Easy Setup, Fine Adjustment by Digital Display and High Repeat Accuracy by Laser Beam
Sensing distance up to 4m Max.

Fine adjustment by digital display

ASC (Automatic Sensitivity Control) function built-in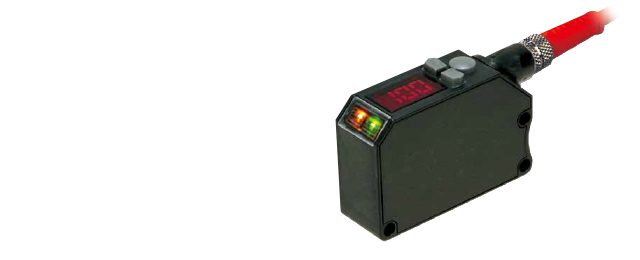 Pushbutton Teach with Fine Adjustment
In addition to a Teach button there are also two threshold adjustment buttons. Fine adjustments can be made to the threshold value after Teaching by using the adjustment buttons.
Timer functions
The pushbutton teach models of the D series have

built-in Timer functions for added flexibility.
Remote Input
The DR-Q and BGS-DL sensors have a Remote Teach input that can be used to remotely set the sensor sensitivity.
Class 2/Class II IEC, FDA Regulation
The D series conforms to Class 2 (IEC) and Class II (FDA) regulations
Transparent Detection with Laser Light Source is the best solution for Glass/PET
DR-Q series
The DR-Q Series offers superior performance in Transparent Object detection. With a 0.7 msec.
response time it is ideal for use in high speed bottling applications.
Accurate detection is assured by the use of a Coaxial light source.
The AGC (Automatic Gain Control) circuit will automatically compensate for changes in the incoming light level (due to dust/dirt etc.) by adjusting the threshold setting.
AGC (Automatic Gain Control) function
The AGC circuit monitors the incoming light level to maintain reliable operation even in dusty / dirty conditions.