Compact TOF Sensors with Display

TOF-DL Series
Enhanced operability and I/O selection
Models with IO-Link, Analog Output, and 3 Control Outputs Available

High Performance with Class 1 Laser

High Accuracy Operation with Low Hysteresis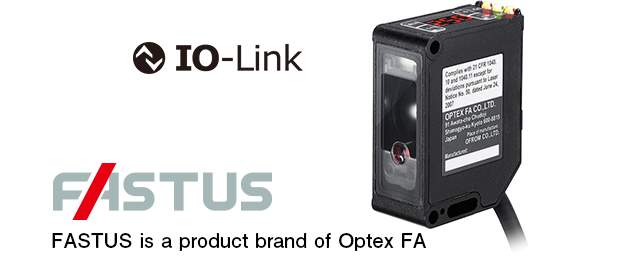 Detect from up to 2.5 m away.
"Visualize" distances with the TOF-DL compact sensor.
The FASTUS TOF-DL Series is the smallest TOF sensor*1.
This ultra-compact laser distance sensor is capable of detecting at distances of up to 2.5 m.
With a built-in digital display, configuring settings is simple.
Notably, the TOF-DL Series is most useful with applications requiring height and target distance control, such as level and position detection and loop control at a manufacturing site.
*1 Among devices equipped with displays. Optex FA examination performed December 2018.

The TOF principle measures the time it takes a pulse-emitted laser to hit a target and return, and the measurement is then converted into distance. With strong resistance to influences from the target's surface conditions, this principle is capable of producing stable detection.
Easy-to-See Digital Display
With its ultra-compact size, the TOF-DL Series is equipped with a three-digit, easy-to-see digital display.
The display allows users to check the distance showing numerical values.
This digital display also makes threshold adjustments easy.

Easy-to-See Indicators and Stability Output
The indicators used on the TOF-DL Series allow for easy visibility from any angle.
In addition, users are able to switch output 1 to Stability Output.
Stability Output turns ON (Central indicator = Green) when detection is stable and turns OFF (Central indicator = Red) when detection is not possible.
Class 1 Laser Light Source
The Class 1 laser used in the TOF-DL Series opens the door to long-distance measuring at up to 2.5 m without sacrificing eye safety.
In addition, the spot is clearly visible, making light axis alignments easy.