Teach-In + Display type

D1RF series
Intelligent & flexible
Teach-In + Display type

Degree of protection: IP66

Mounting holes for M3 screws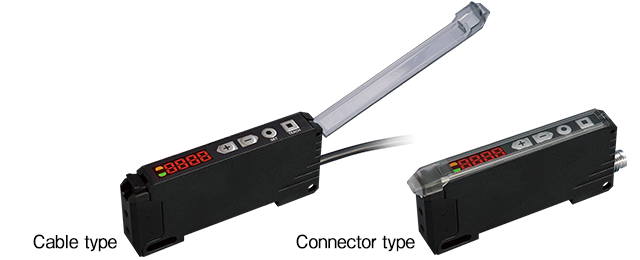 Mounting holes

Features mounting holes for M3 screws. This enables the amplifier to be mounted without use of a DIN rail or mounting bracket.

Degree of protection: IP66

Featuring an IP66 structure uncommon for fiber-amplifiers. Can be used without worry in factories or with devices in which contact with water occurs.
Cable and connector type

Both a cost-effective cable type, as well as a connector type that does not require wiring when replacing sensors, are available.
User-friendly control panel
Response time switching is possible

It is possible to switch the response time between the standerd 250 μs and the high-speed responce of 50 μs.
This is effective in detecting small workpieces travelling at high speeds.

Emitted light power reducing function

Switching between three levels of emitted light power is possible. Because saturation of received light can be prevented by reducing emitted light power, it is useful when detecting at short distances or when detecting transparent objects or small objects.
NPN/PNP switchable

The control output can be used by switching between either NPN or PNP. Thanks to this, stock can be reduced and order errors eliminated.

Timer function

Equipped with timer function in which ON delay, OFF delay and One-shot can be selected. The delay time can also be set in 1 ms increments within a range of 1 to 9999 ms.