Sensing LED Backlight

OPF Series
Increased brightness compared with conventional models
(narrow directivity angle type: 4×, diffuse type: 2.5×)
Long-term brightness stability thanks to built-in "FALUX sensing"

New 50 × 15 mm narrow directivity angle type!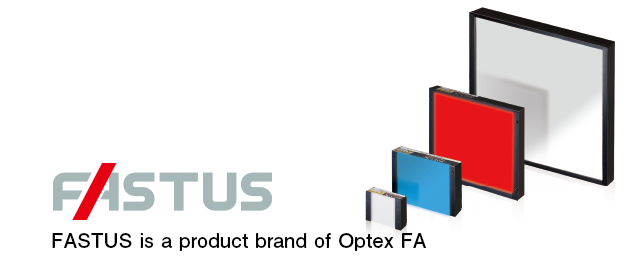 [An industry first!]Narrow directivity angle type and diffuse type available
The OPF Series is available as a narrow directivity angle type or as a diffuse type, allowing for selection of the directivity angle that best suits the target.
Using the industry's first prism sheet, the narrow directivity angle type allows for clear contour extraction with transparent workpieces and metal workpieces that cause glares, targets that were conventionally difficult to handle.
Narrow directivity angle type for powerful contour extraction with transparent or glossy targets
OPF Series lighting is equipped with a proprietary prism sheet on the diffusion plate for a narrow directivity angle (half-value angle of ±17°) equivalent to that offered by conventional light control (LC) film.
Illuminating from the rear with a narrow directivity light angle prevents unwanted reflected light for projection of a crisp silhouette that is not affected by surface conditions.
Diffuse type for penetrating scattering workpieces
When detecting foreign matter within workpieces that scatter light, including non-woven fabric and cloudy plastic, a diffuse type is available as an upward-compatible product for conventional OPSM models.
With highly uniform light that is 2.5 times brighter than conventional models, the diffuse type easily penetrates scattering workpieces and displays the shadows of foreign matter.
Selective use of directivity angles even with color camera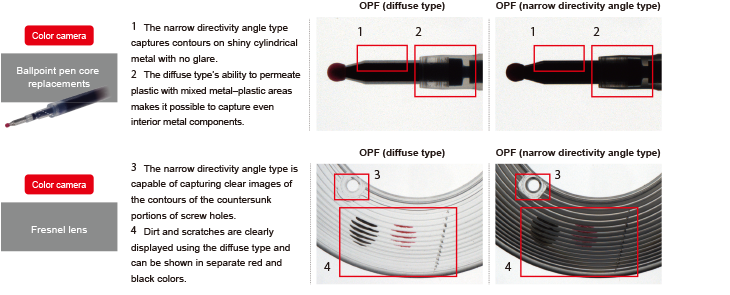 Up to 4 times brighter

The narrow directivity angle type uses the prism sheet to spread light around a wide area and focuses that light at the front for four times the brightness of conventional models.
Because this type offers a narrow illumination directivity angle without mounting LC film, decreases in brightness caused by LC film are not a problem.
In addition, brightness is 2.5 times that of conventional products just with the diffuse type

Correction of peripheral decreases in brightness

Thanks to an optimized arrangement of LEDs, not only uniformity but also brightness deterioration of the peripheral areas has been improved.
This allows for a larger inspection area than that offered by conventional models to be ensured even with the same lightemitting surface size.
Introducing the 50 × 15 mm narrow directivity angle type specializing in contour extraction of rectangular workpieces
The addition of the rectangular 50 × 15 mm size makes it possible to install lighting on production lines for elongated connector parts and injection needles, and other lines without enough space to install conventional backlighting.
Sensing lighting with automatic brightness management

OPF Series devices include Optex FA's "FALUX sensing" technology. The built-in photodiodes are used to monitor the brightness in order to provide feedback on long-term brightness deterioration, making it possible to maintain the factory default brightness for around 50,000 hours. This helps reduce maintenance costs during operation.
The OPF Series also has LEDs and photodiodes for measuring brightness built in to the housing frame, which allows for accurate measurement of luminance without being affected by extraneous light noise. Control circuitry mounted on the inner wall also helps keep lighting compact.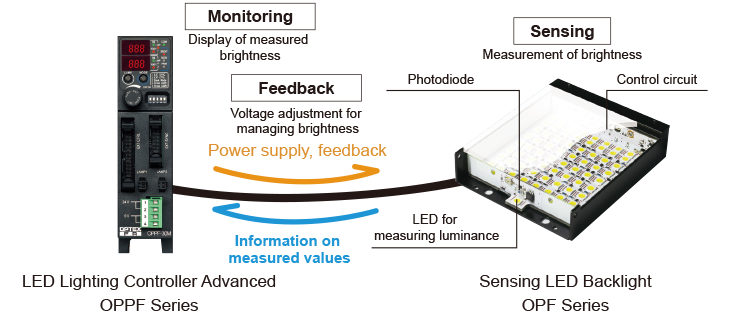 Built-in "FALUX" brightness variation correction circuit

The OPF Series is equipped with "FALUX" proprietary technology capable of correcting reductions in luminance due to increased temperatures.
This correction function is activated within the lighting itself by analyzing the temperature inside the lighting device.