Fiber Unit

SMALL OBJECT DETECTION Series
Small object detection with spot lens and fine core
A small spot focus lens with adjustable spot size is available

Suitable for handling small objects with a ø0.125 mm fine core (NF-DP01)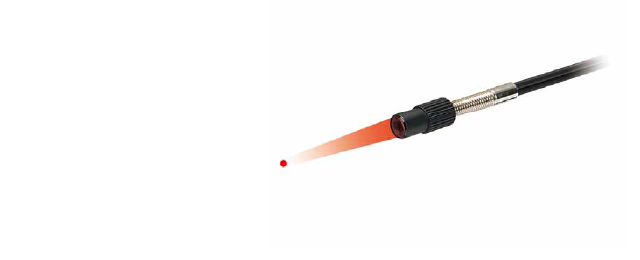 Stable detection of small objects with spot lens

Fine spot lens NF-DA03 and coaxial diffuse fiber unit NF-DK21 enables ø0.2 mm spot.

  

Adjustable spot size

      

The NF-DA06 comes with a small spot lens where sensing distance and spot size can be adjusted through the amount of fiber inserted. It is possible to change the spot size between ø0.9 and 1.9 mm with a distance of between 20 and 40 mm. The NF-DA07, with its space-saving side view, is also available.
Detects small objects with a core diameter of ø0.125 mm
The NF-DP01 diffuse type use a ø0.125 mm fine core. Suitable for small object detection.
The position of the fiber can be easily adjusted by attaching a sleeve.