Fiber Unit

SMALL FOCUSED BEAM Series
Very Tiny Focused Spot Beam by Lens and Super Fine Sleeve for Detecting Small Objects
Line up of spot size adjustable lenses

Very fine core with Φ0.125mm for detecting small objects (NF-TP01, NF-DP01)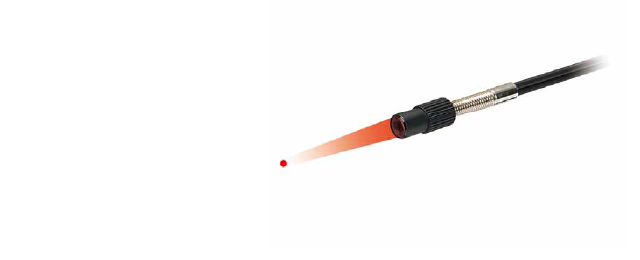 Detects small object by fine spot focus beam
Fine spot lens NF-DA03 and coaxial diffuse fiber unit NF-DK21 enables 0.2mm Dia. Spot.
Adjustable spot size
You can adjust spot size, 0.7~0.85mm,by changing length of fiber inserted in the lens NF-DA06, 20 +/- 1.5mm. Space saving Side-beam type NF-DA07 is available.
Detects small object by fine fiber core
0.125mm Dia. fiber core is built in NF-TP01 and NF-DP01 that enables detecting small object. The sleeve provides easy position adjustment.