High Speed Digital Fiber Sensor

D3RF/D3IF Series
3rd Generation High Speed Digital Amplifier for Fiber Sensor with Easy Operation
The industry fastest fiber amplifier (an internal investigation in Feb. 2010)

Cross talk prevention in High speed mode for 2 units operation

Longer sensing distance than ever

"100%" display for better recognition of change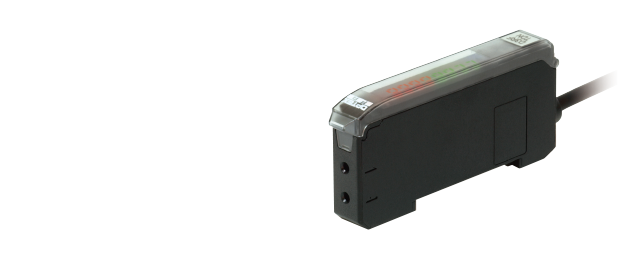 Widest display in the class

5mm wider display than conventional D2RF. 7 segment with high brightness LED for better visibility.

Easier operation

Basic setup is easy as pressing the teach button for 2 seconds. More advanced functions are located in a deeper setup layer for solving more complex applications.
Dual "ASC" for easy maintenance

Detects light degradation made by some dust and then, adjust the brightness. It re-adjusts threshold automatically after cleaning up the dust so no need reteaching.

100% display for better recognition of level change

Display can be changed to percentage (0~100) by simple single action with buttons. Easy to recognize when the level changes.
Brightness stabilizing function "FALUX"

Our original technology "FALUX" stabilizes LED brightness by adjusting LED current even under fluctuation of LED temperature after power up.

Adjustable hysteresis

hysteresis can be adjusted from 1% to 40%. This enables the sensor to be optimized for detecting slight differences in parts or applications with a lot of vibration.
Fastest in the class 16μs(1-HS mode) 22μs(inter-connection type)

Originally developed super high speed processor "FAntron DUO"enables fastest speed in the class 16μs(1-HS mode). It can detect over 30,000 pieces per second. Maximum speed of inter-connection type is 22μs . It can prevent cross talk up to 2 units.
Super long sensing distance

High power LED and efficient collective lens, it can receive enough light to realize around 3 times longer sensing distance for diffuse and 5 times longer sensing distance for thru-beam sensing.
ECO mode

D3RF has ECO mode that enables power saving by making sub-display (green) OFF and darken main-display (red).

Easy installation

You can connect up to 16 units without any wiring
Cross talk prevention

The D3RF can prevent cross talk by shifting the timing of the emitting element. You can connect up to 12 units in standard mode and up to 16 units in ECO mode.
Easy setup
The interconnect version of the D3RF can copy the setup parameters from the master side to the slave slide. Zero reset and 1 pt teaching can also be performed simultaneously to each unit