Digital Fiber Amplifiers

D3RF/D3IF Series
Easy-to-use fiber amplifiers
Fastest high-speed response in the world
Supports cross talk prevention functions for up to 2 units, even in the fastest mode

New generation specifi cations for sensing distance as well

100% display for better recognition of level change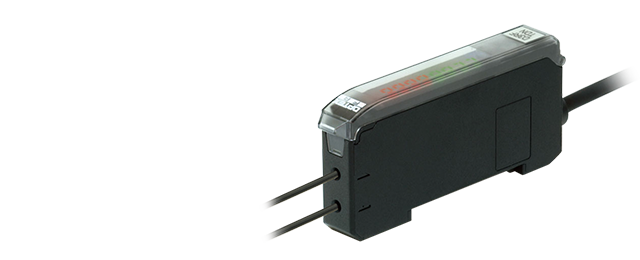 Easy to see and intuitive
Widest display in the industry.

The display area is equipped with the widest display in the industry, expanded by 4 mm compared to conventional models. The adoption of high brightness LEDs, a 7-segment display, with high brightness and high visibility even from a distance is made possible.

100% display for better recognition of level change

Display for receiving light quantity can be changed to a percentage display with one simple single action, making changes in receiving light quantity are easy to recognize even when linked.
Dual "ASC" for easy maintenance (Through Teaching or Percent Teaching)
Unique functionality in which automatic sensitivity corrections are performed when light level decreases occur due to contamination of fiber tips caused by dust, etc. After cleaning, the threshold value is automatically restored, so there is no need for re-teaching. *For dual output types, ASC operates only for control output 1.

Cordial design to prevent misoperation

By featuring a design in which basic setup can be performed by pressing the teach button for 2 seconds and in which advanced functions are performed at deeper levels, setting changes caused by misoperation can be prevented.
"FALUX" function that suppresses fluctuations in emitting power.

A temperature correction circuit in the emitting circuit suppresses emission power fluctuations caused by temperature changes. Stable detection can be performed with little change in brightness, even immediately after turning the power on. Since the brightness of the emitting LED is constant without being influenced by the internal temperature, heat sinks and an APC, which accelerates the deterioration of the LED, become unnecessary.

Adjustable hysteresis

Hysteresis can be adjusted widely from 1% to 40%. This enables the sensor to be optimized for detecting slight differences in parts or applications with a lot of vibration.