Compact Low Cost Displacement Sensor

CD33 Series
Cost Effective Laser Displacement Sensor with Amplifier Built-in
Available is CD33-L a Specular types for high reflection and transparent object even in RS422 serial communications

Just connect UQ1-02 to build data logging system to Mitsubishi PLC without any I/F, logging unit and ladder program

Analogue output (4-20mA or 0-10V) + 2 control outputs Stand-alone design capable of direct operation without controller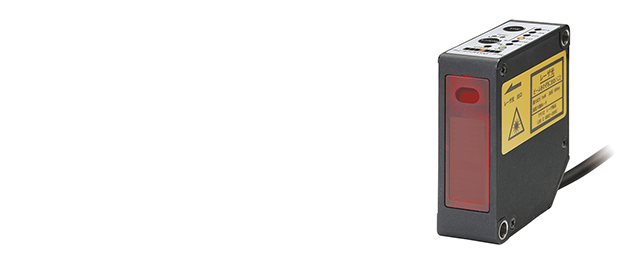 Reliable glass thickness measurement
The Specular type CD33-L** can detect both surface of glass and measure the thickness.
Digital subpixel processing
Subpixel processing divides one pixel into small pieces that enables accurate measurement by reproducing genuine value of incoming light.
High resolution electronic shutter
High resolution electronic shutter controls to keeps a constant level according to reflection. This function enables stable peak level detection even when unstable surface conditions exist.
Easy-to-select models between voltage and current output.

IIt is common today for sensors to be very complicated requiring long set-up times and many buttons to operate.
The CD33 focuses on easier set-up by separating voltage and current output models into two types.
Ideal for robot mounting
Ideal for mounting on robot cylinder thanks to compact dimensions and the light 65g weight. IP67 water tightness is also secured.
Control unit UQ1 series to connect sensor head to PLC MELSEC-Q series directly
UQ1-02 enables easy connection of CD33 and PLC MELSEC-Q series. UQ1 setup the sensor head automatically.You don't have to have big ladder proglam.
2CH outputs enables individual setting of measurement range.
Highly accurate comparator output capable of identifying 12μm (with CD33-30 types). Hysteresis is just 0.15% F.S.
MF (Multi Function) input for further convenience.
The programmable remote MF input can be set to one of the following: Laser o , External teach, Hold, or One-shot trigger.