Small BGS Sensors

BGS-S/BGS-2S Series
Standard elongated hole type and small type BGS sensors
For locations with small mounting space

For accurate detection of small workpieces

High-speed response: 0.5 ms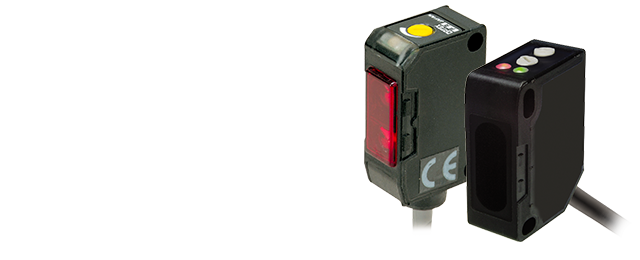 Can be safely used in locations with small mounting space
Small type

BGS-S series is one of the smallest distance setting type photoelectric sensors.
BGS sensors can now be used in locations where only small-sized diffuse-reflective type
photoelectric sensors could be used up to now.
Prevention of chattering

Type with timer functions

The BGS-2S30NT is equipped with an OFF delay timer which can delay the time in which output is shut off by 0 to 100 ms. It is also effective when inputting to devices in which detecting signal slow.
High-speed response

0.5 ms high-speed response type

This photoelectric sensor with built-in amplifier features a top level response time of 0.5 ms or less. This feature makes its use on high speed production lines possible.

For accurate detection of substrates

Substrate detection type (BGS-2S10N)

Features of this type include stable detection even if the substrate type is changed, as well as high repeat accuracy, even among models in the series.
Water resistant structure

Degree of protection on IP67

All models in the BGS series conform to IP67 (protective resistance standard) and feature excellent dust and water resistance. It also conforms to CE standards and can be used in a wide range of locations.