Long Range with Narrow FOV Thermometers

PT-S80/PT-U80
Striving for "easier readability" "convenience"
EL backlight mounted on liquid crystal part

Recorded data can be sent to and received from PC via USB
(PT-U80 only)

Long focus design that can be measured away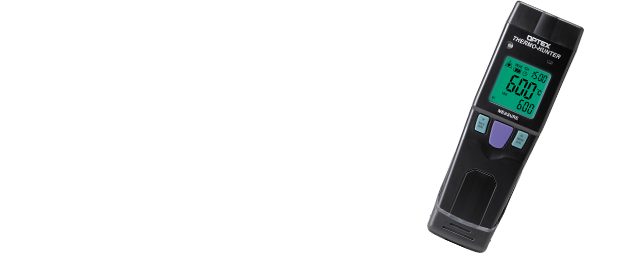 Precautions for hand-held models of thermometers
General notes
• Be sure to read the instruction manual thoroughly before using the product.
• These thermometers are not for measurement of human body temperature. These are not intended for use in medical practices.
• Sudden changes in ambient temperature may cause measurement errors. Please ensure the product is not exposed to sudden temperature changes during use.
• Avoid using the product near a device that generates strong electromagnetic waves.
Waterproof
PT-5LD, PT-7LD
• Although these products are waterproof, it cannot be used for underwater measurements. Also, a water drop on the silicon filter may cause measurement errors. Be sure to wipe the filter well before use.
PT-2LD, PT-S80/U80
• These products are not waterproof. Do not use this product in water or in a location where it may be exposed to water.
Measurement Tips
• For measurement of specular surface, such as a polished metal, consider to attach the optional black tape, HB-250, or paint the surface in a matte color.
• Measurement through glass may be difficult.
Laser Marker [For applicable models only]
• The markers are equipped with Class 2 lasers that conform to IEC 60825-1.
• Take necessary measurements for use of the products, according to the laser warning labels.

Laser warning labels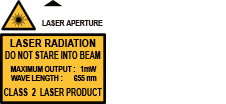 Product Calibration
• Annual calibration of non-contact thermometers is recommended. Contact OPTEX FA sales for details.