Long Range with Narrow FOV Thermometers

PT-S80/PT-U80
Striving for "easier readability" "convenience"
EL backlight mounted on liquid crystal part

Recorded data can be sent to and received from PC via USB
(PT-U80 only)

Long focus design that can be measured away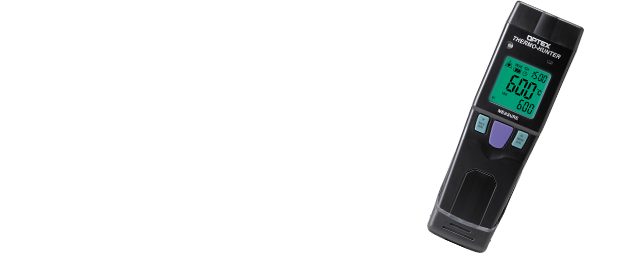 Specifications
Model
PT-S80
PT-U80 (with USB output)
Measurement
range
−30 to 600°C (−22 to 1112°F)
Field of view
30 × 30 mm / 1000 mm (D : S = 33 : 1)
Optics
Si lens
Sensing element
Thermopile
Measurement
spectral response
8 to 14 μm
Response time
0.5 sec./90% response
Accuracy*1 (ε≈0.95)
−30.0 to 0°C (−22 to 32°F): ±3°C (5.4°F),
0.1 to 200°C (32.2 to 392°F): ±2°C (3.6°F),
201 to 600°C (393.8 to 1112°F): ±1% of reading value
Repeatability
±1°C (1.8°F)
Display resolution
−30.0 to 199.9°C (−22 to 391.8°F): 0.1°C (0.1°F) ,
200 to 600°C (392 to 1112°F): 1°C (1°F)
Sighting function
Coaxial laser marker Class 2 (IEC / JIS / FDA*2)
HOLD time
15 seconds
Continuous
measurement
switching
-
ON/OFF switchable
USB output
-
Yes
Data recording
Single-entry memory
35-entry memory
(150 entries max.)
Backlight
EL backlight with illuminance sensor
Upper/lower
temperature limit
alarm
Alarm LED and buzzer, ON/OFF switchable
Emissivity (ε)
adjustment
0.95/0.85/0.70
(switchable)
Variable emissivity
(0.3 to 1.20, 0.01 per step)
Display function
NOR/MAX/MIN
Power supply
AA alkaline battery ×2
Battery life
Approx. 15 continuous hours (at max. load)
Ambient
temperature
0 to 50°C (32 to 122°F)
Ambient humidity
35 to 85% RH (no condensation)
Storage
temperature/
humidity
–10 to 60°C (14 to 140°F)/35 to 85% RH
Material
ABS/TEEE
Dimensions
H × W × D = 182 mm × 56 mm × 38 mm
Applicable
regulations
EMC
EMC Directive (2014 / 30 / EU)
Environment
RoHS Directive (2011 / 65 / EU), China RoHS (MIIT Order No.32)
Safety
FDA Regulations (21 CFR 1040.10 and 1040.11)
(except for deviations pursuant to Laser Notice No.50)
Applicable standards
EN 60825-1
Weight
Approx. 250 g (including batteries)
Standard included
accessories
Instruction manual,
Dedicated carrying case, USB cable (PT-U80 only)
*1 The measurement accuracy in the specification is limited to the calibration conditions of our factory.
*2 This product is classified as Class 2 by IEC 60825-1: 2007 according to Laser Notice No.50, FDA Guidance Document.
・The dedicated PT-U80 software is available for free download.
・Peripheral devices connected to the PC may prevent correct operation.
・Note that specifications are subject to change without prior notice for product improvement purposes.
Storage case (Included accessory)