Exhibition Report
34th ELECTROTEST JAPAN
Dates

Jan. 18 [Wed] - 20 [Fri], 2017

Venue

Tokyo Big Sight, Japan
OPTEX FA exhibited for ELECTROTEST JAPAN held inside NEPCON JAPAN 2017, one of the biggest trade shows in Asia for the inspection, testing, measurement, analyzing equipment for electric components.
We presented the latest laser displacement sensors, non-contact temperature sensors, LED lightings for machine vision and 3D machine vision.
Measurement and detection of height of electric components
Demonstrated measurement of connector pins by 2D displacement sensor LS series.
Counting number of pins and checking shape of pins are possible.
Demonstrated thickness measurement and checking existence of electric components by displacement sensor CD22 series and laser sensor BGS-HL/HDL series.
Temperature measurement of glossy workpiece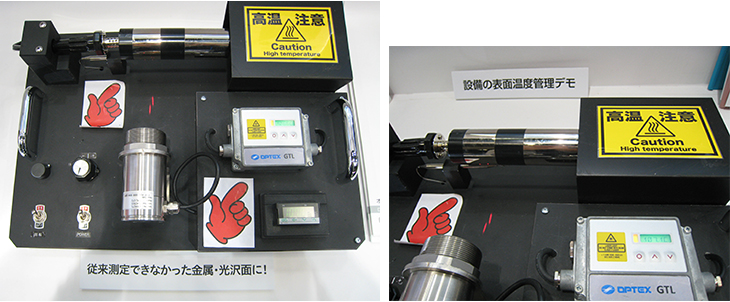 Demonstrated temperature measurement of metal surface by non-contact temperature sensor GT/DTL-3M series.
Temperature measurement of glossy metal/non-metal surface and ceramic is possible.
Sensing LED lighting and controller for machine vision
Demonstrated new size 18 mm type of sensing coaxial lighting.
This is ideal lighting for detecting flaws on a small workpiece using high resolution camera because it employs Cube Beam splitter. OPX series is also demonstrated for comparison.
Demonstrated LED lighting controller OPPD-30E, which has Ethernet connectivity, with various LED lightings connected. Demonstrated dedicated software for OPPD-30E to show it can display how the controlling of LED lighting is proceeded and also brightness and temperature monitored by built-in sensor of LED lighting on the screen.