ø2.5mm Fine-Spot Type

PT-3S
ø2.5 mm fine spot
Data sampling with analog output

Spot marker and alarm notifications

Built-in continuous measurement function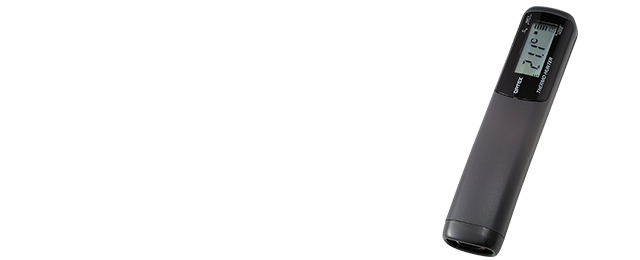 ø2.5 mm fine spot

With extremely small targets with a small thermal capacity, measurement using conventional contact thermometers is difficult due to the effects of heat during contact.
The PT-3S, however, is a non-contact thermometer capable of instantly measuring very small objects as small as ø2.5 mm.
Thanks to simple, single-button operation, measurements are instantaneous.

Spot marker and alarm notifications

To ensure reliable measurement, the product includes a red spot marker indicating the field of view.
In addition, the safe design notifies the user via alarm when nearing the minimum ø2.5 mm measurement diameter.
Data sampling with analog output

The product provides 1 mV/°C of analog output as standard.
This is ideal for extended data acquisition when used in combination with the continuous measurement function.
(Analog output cable included as standard.)

Pocket-sized pen type

The PT-3S is a pen-type thermometer that is perfect for using at a desk.
This makes use easy through the familiar sensation of holding a pen.
The product is also designed to be compact for easy storage in a pocket. This makes carrying the product around much more convenient.
Energy-saving automatic power off function

This function is designed to save power by automatically turning off the power following the 10-second operation of the hold function.

Built-in continuous measurement function

The continuous measurement function allows for consecutive measurements without having to press a button.