Fiber-Type Thermometer

BF Series
High frequency equipment for fiber type
Wide measurement range

Simple emissivity adjustment: Teaching function

50 ms high-speed response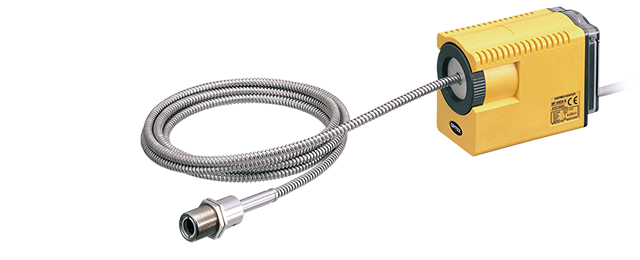 Scaling

The temperature range of the analog output (4 to 20 mA) can be set as desired.
This makes post-processing with recorders and the like easy.

Heat-resistant up to 150°C (302°F) (fiber tip)

The fiber tip features a heat-resistant design capable of withstanding ambient temperatures up to 150°C (302°F).
This means no cooling device is required.
Wide measurement range

This product is suitable for a wide variety of applications thanks to its wide 400 to 1200°C (752 to 2192°F) measurement range.

Space-saving glass-fiber model

The fiber tip (lens attachment) features an M16 compact design. Moreover, the adoption of glass fiber provides better resistance to breakage.
This design is ideal for incorporation in machines and other equipment.
Simple emissivity adjustment: Teaching function

This product is equipped with a TEACH function that allows users to calculate and store emissivity automatically by inputting a temperature.
This allows for drastic reductions in time spent on configuring settings.

50 ms high-speed response

The product's high-speed response capabilities make it possible to track measurement targets moving relatively fast.