Features
● Compact slave adapters to field networks
● Max. 16 units of D3RF/D3WF fiber sensor amplifer can be connected.
● Max. 8 units of CDA displacement sensor amplifier can be connected.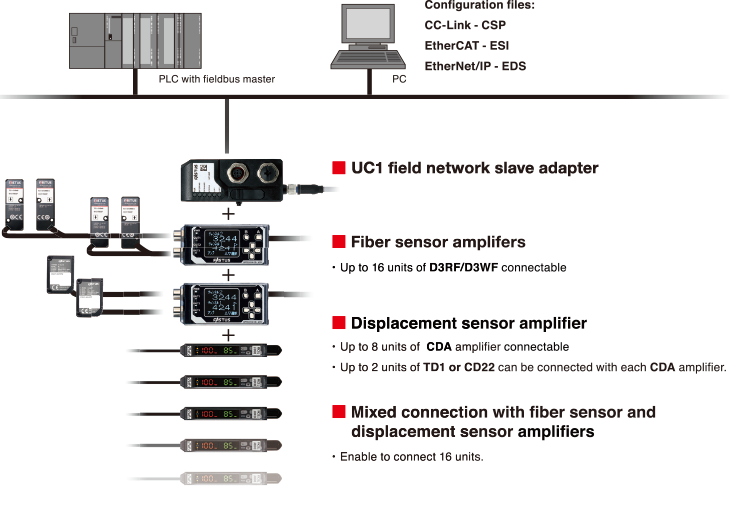 Specifications
Model
UC1-CL11
UC1-EC
UC1-EP
Supported version
CC-Link Ver. 1.10
EtherCAT*1Slave
EtherNet/IP adapter
No. of occupied stations
2/3/4
-
-
Communication range
100 to 1200 m
100 m max
100 m max
Baud rate
156 kbps/625 kbps
/2.5 Mbps/5 Mbps/10 Mbps
100 Mbps
10/100 Mbps
Station number settings
1 to 63
-
-
Cable connections
CC-Link-specified cable
STP Category 5 or higher
STP Category 5 or higher
Supported functions
-
Process data communication,
mailbox communication
(supports CoE)
Implicit message (Class1)
Explicit message (Class3, UCMM)
ACD (Address Conflict Detection)
DLR (Device Level Ring)
Static IP
DHCP
BOOTP
Power connection
2-pole terminal block connectorx.
M8 4-pin connectior
M8 4-pin connectior
Data communication
-
PDO communication
(sending: max. 120 bytes,
receiving: max. 36 bytes)
Implicit message
(sending max. 40 byte, receiving 4 byte)
Explicit message
SDO communication
Applicable regulations
EMC directive (2014/30/EU)
EMC directive (2014/30/EU)
EMC directive (2014/30/EU)
Applicable standards
EN 61000-6-2, EN 55011
EN 61000-6-2, EN 55011
EN 61000-6-2, EN 55011
NRTL Certification
UL Recognized Component
*1. EtherCAT is a registered trademark of Beckhoff Automation GmbH & Co. KG.
Common specifications
Connected
devices
Connectable models
D3RF/D3WF series inter-connection master and slave unit
CDA series master and slave unit*2
No. of connectable units
Up to 16 units*3 (One CDA unit occupies two units)
Connection type
5-pin connector for linking (functions as a linking end unit)
Rating
Supply voltage
12 to 24 VDC, including ±10% ripple (p-p)
Power consumption
3 W or less
Protection circuit
Reverse connection protection
Installation
35 mm DIN rail
Material
PC
*2. Lot. No 2017F or larger of CDA-DM2 supports connection with UC1-EC or UC1-EP.
*3. The maximum number of connectable D3RF/D3WF units varies depending on the ambient temperature.
| | | | |
| --- | --- | --- | --- |
| Ambient temperature | -25 to +55oC | -25 to +50oC | -25 to +45oC |
| No. of connectable D3RF/D3WF | 1 to 3 | 4 to 8 | 9 to 16 |
Dimensions
(Unit : mm)
UC1-CL11

UC1-EC/-EP