Fiber Sensor

BRF/BGF/BIF Series
Easy sensitivity adjustments without the use of tools
Easy to turn sensitivity adjustment potentiometer

High-speed response up to 50μs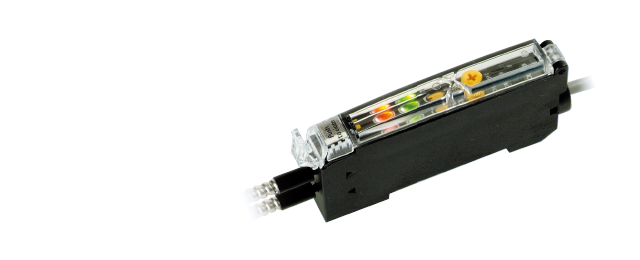 Lineup
Type
Shape
Light source
Model (Models in parentheses are connector types)
NPN type
PNP type
Standard

Red LED

BRF-N
(BRF-CN)
BRF-P
(BRF-CP)
High-speed

Red LED

BRF-HN
(BRF-CHN)
BRF-HP
(BRF-CHP)
Mark detection

Green LED

BGF-N
(BGF-CN)
BGF-P
(BGF-CP)
Water detection
Infrared LED
BIF-WN (BIF-CWN)


To be discontinued

BIF-WP (BIF-CWP)


To be discontinued
•For the connector type, please purchase an optional JCN series connector cable.
Specifications
Type
Standard type
High-speed type
Mark detection type
Water detection type
Model
NPN
Cable type
BRF-N
BRF-HN
BGF-N
BIF-WN


To be discontinued

Connector type
BRF-CN
BRF-CHN
BGF-CN
BIF-CWN


To be discontinued

PNP
Cable type
BRF-P
BRF-HP
BGF-P
BIF-WP


To be discontinued

Connector type
BRF-CP
BRF-CHP
BGF-CP
BIF-CWP


To be discontinued

Light source
Red LED
Red LED
Green LED
infrared LED
(1.45 μm)
Response time
250 μs
50 μs
250 μs
1 ms
Distance adjustment
10-turn potentiometer
Indicators
Output indicator (orange LED), stable indicator (green LED)
Control output
NPN/PNP type open collector Max. 100 mA/30 VDC
Timer function
OFF delay 40 ms fixed (can be released)
Output mode
Light ON / Dark ON selectable
Connection type
Cable type: Cable length: 2 m, ø3.8 mm /
Connector type: M8, 4-pin
Insulation resistance
20 MΩ or more (with 500 VDC)
Rating
Supply voltage
10 to 30 VDC, including 10% ripple (p-p)
Current consumption
25 mA or less (with 12 VDC)
Applicable regulations
EMC directive (2004/108/EC)
Applicable standards
EN 60947-5-2
Company standards
Noise resistance: Feilen Level 3 cleared
Environmental resistance
Ambient temperature/humidity
-25 to +55℃ (no freezing) /
35 to 85% RH (no condensation)
Ambient illuminance
Sunlight: 10,000 lx Incandescent lamp: 3,000 lx
Vibration resistance
10 to 55 Hz; double amplitude 1.5 mm;
2 hours in each of the X, Y, and Z directions
Shock resistance
Approx. 50 G (500 m/s2),
3 times in each of the X, Y, and Z directions
Degree of protection
IEC standard, IP66
Material
Housing: PBT cover: Polycarbonate
Weight without cable
Cable type: Approx. 20 g / Connector type: Approx. 20 g
Included accessories
Mounting bracket
•Specifications are subject to change without prior notice for product improvement purposes.