Stainless Steel Housing Type

Z-M Series
Excellent water resistance/oil resistance!
Suitable for automobiles, machine tools and food industry
Longest sensing distance in the class!

Employs a low deterioration 4 element red LED for the light source

Degree of protection: IP69K (cable type), Equivalent to IP67g (connector type)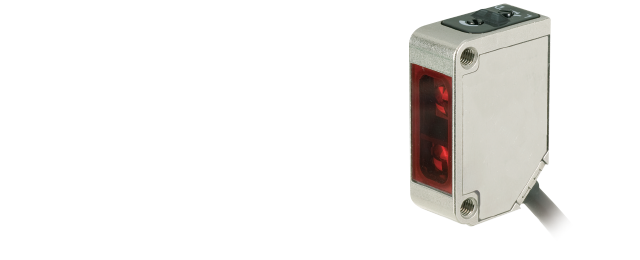 Output circuit diagram
NPN output type

PNP output type
Through-beam type emitter

Connector type

Connecting

▪ 1 to 4 are connector pin No.

Notes

▪ When using a switching regulator for the power supply, be sure to ground the frame ground terminal.
▪ Because wiring sensor wires with high-voltage wires or power supply wires can result in malfunctions due to noise, which can cause damage, make sure to wire separately.
▪ Avoid using the transient state while the power is on (approx. 100 ms).
▪ The connector direction is fixed as the drawing below when you use L-shaped connector cable. Be aware that rotation is not possible.
Dimensions
Unit : mm
Cable type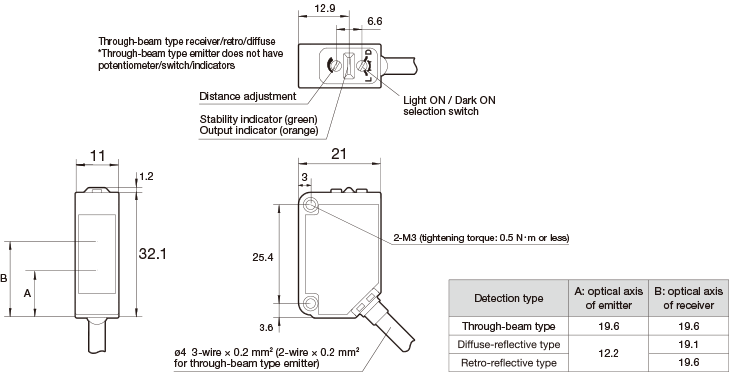 Connector type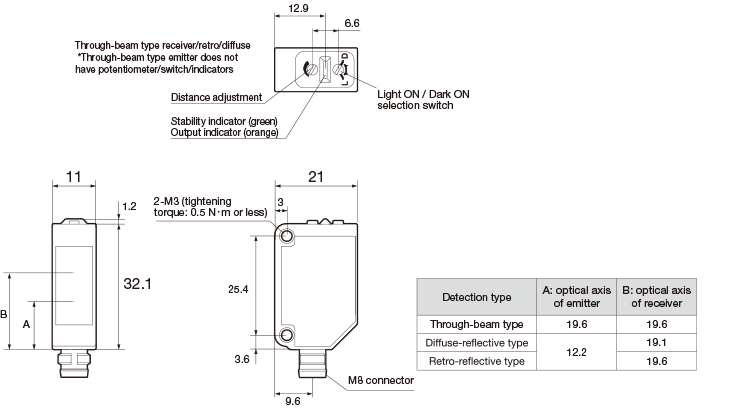 Reflector
V-61: Standard type reflector (included with retro-reflective type)

V-42: Small reflector (optional)






P45A: Vertical type reflector (optional)
Oil resistant connector cable (optional)
DOL-0804-G02MC
DOL-0804-G05MC
DOL-0804-G10MC

DOL-0804-W02MC
DOL-0804-W05MC
DOL-0804-W10MC
Successor models
YF8U14-020UA3XLEAX
YF8U14-050UA3XLEAX
YF8U14-100UA3XLEAX

YG8U14-020UA3XLEAX
YG8U14-050UA3XLEAX
YG8U14-100UA3XLEAX
Mounting bracket
BEF-W100-B (included with cable type)

BEF-W100-A (included with connector type)
Protective mounting bracket (option for cable type)
LK-S01

LK-S02