Coaxial Retro-reflective Sensors

ZR-X Series
Coaxial optical system for stable detection

Zero detection dead area from a reflector

Fast response of 250μs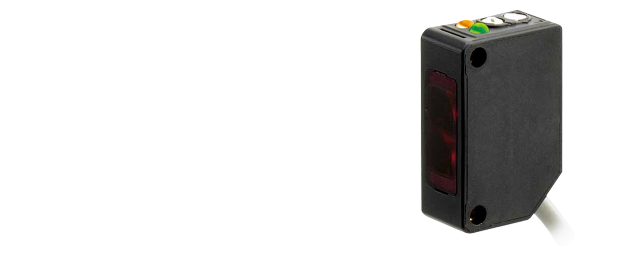 Lineup
Optical system
Sensing distance
Model
NPN
PNP
Coaxial retro reflective

ZR-X250N
ZR-X250P
ZR-X250CN4
ZR-X250CP4
•For the connector type, please purchase an optional M84CN series connector cable.
Specifications
Type
Cable type
Connector type
Model
NPN
ZR-X250N
ZR-X250CN4
PNP
ZR-X250P
ZR-X250CP4
Sensing distance*
0 to 2.5m
Light source
Red LED
Spot size
Approx. Φ60 mm / 2m
Response time
250 μs or less
Sensitivity adjustment
1-turn volume
Indicators
Output indicator (orange) / Stability indicator (green)
Control output
NPN/PNP open collector, Max. 100 mA / 30 VDC
Output mode
Light ON / Dark ON selectable
Connection type
2m cable
M8 4-pin connector
Rating
Supply voltage
10 to 30 VDC, including 10% ripple (p-p)
Current consumption
20 mA or less
Applicable regulations
EMC
EMC directive (2014/30/EU)
Environment
RoHS directive(2011/ 65/EU),
China RoHS(MIIT Order No.32)
Applicable standards
EN 60947-5-2
NRTL Certification
UL Recognized Component
Environmental resistance
Ambient temperature/humidity
-25 to +55℃ (no freezing) / 35 to 85% RH (no condensation)
Ambient illuminance
Sunlight: 10,000 lx, Incandescent lamp: 3,000 lx
Vibration resistance
10 to 55 Hz; double amplitude 1.5 mm;
2 hours in each of the X, Y, and Z directions
Shock resistance
Approx. 100 G (1000 m/s2);
3 times in each of the X, Y, and Z directions
Degree of protection
IP67
Material
Case : ABS (glass fiber filled), Front cover : PMMA
Weight without cable
Approx. 10 g
Included accessories
Reflector : V-61,
Mounting bracket : BEF-W100-B
Reflector : V-61,
Mounting bracket : BEF-W100-A
* With V-61 reflector
• Specifications are subject to change without prior notice for product improvement purposes.