M18 Cylindrical Distance Setting Sensors

BGS-C series
M18 Cylindrical LED BGS Sensor
Easy to install and maintain M18 structure

Metal and plastic housing models

300mm detection distance

Fast response time of 1ms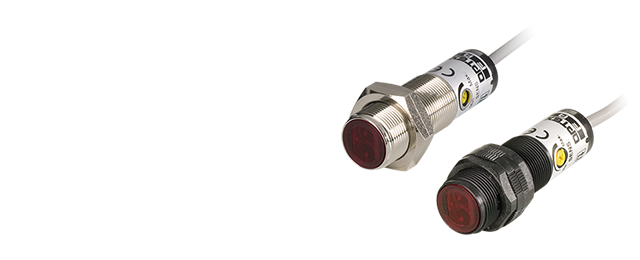 Lineup
Type
Shape
Sensing distance
(Adjustable detection range)
Model
NPN
PNP
BGS
Plastic housing

BGS-CP30N
(BGS-CP30CN)
BGS-CP30P
(BGS-CP30CP)
Metal housing
BGS-CM30N
(BGS-CM30CN)
BGS-CM30P
(BGS-CM30CP)
•For the connector type, please purchase an optional connector cable.
Specifications
Type
Plastic housing
Metal housing
NPN
Cable type
BGS-CP30N
BGS-CM30N
Connector type
BGS-CP30CN
BGS-CM30CN
PNP
Cable type
BGS-CP30P
BGS-CM30P
Connector type
BGS-CP30CP
BGS-CM30CP
Sensing distance*
300 mm
Adjustable distance range*
30 to 300mm
Light source
Red LED
Spot size
Approx. ø15 mm / 300 mm
Response time
1 ms or less
Hysteresis*
10%
Distance adjustment
4 turn pot.
Indicators
Output indicator (orange) / Stability indicator (green)
Control output
NPN/PNP type open collector Max. 100 mA/30 VDC
Output mode
Light ON / Dark ON selectable by control wire
Connection
2m cable / M12 4-pin connecter
Rating
Supply voltage
10 to 30 VDC, including 10% ripple (p-p)
Current consumption
35 mA or less
Applicable
regulations
EMC
EMC directive (2014/30/EU)
Environment
RoHS directive (2011/ 65/EU), China RoHS (MIIT Order No.32)
Applicable standards
EN 60947-5-2
NRTL Certification
UL Recognized Component(Cable type),
UL Listed Component(M12 Connector type)
Environmental resistance

Ambient temperature /
humidity
-25 to +55℃ (no freezing) / 35 to 85%RH (no condensation)
Storage temperature / humidity
-30 to +70℃ / 35 to 95%RH (no condensation)
Ambient illuminance
Sunlight: 10,000 lux, Incandescent lamp: 3,000 lux max.
Vibration resistance
10 to 55 Hz; double amplitude 1.5 mm ;
2 hours in each of the X, Y, and Z directions
Shock resistance
Approx. 50 G (500 m/s2) ;
3 times in each of the X, Y, and Z directions
Degree of protection
IP67
Material
Housing: PBT (glass included),
Front Cover / Lens: PMMA
Housing: BSBM,
Front Cover / Lens: PMMA
* White Paper 90%
• Specifications are subject to change without prior notice for product improvement purposes.