Highly functional IO-Link Master for various industrial Ethernet
First in industry* Mixed connection of digital Sink(NPN) / Source(PNP) I/O devices is realized with one unit

Largest no. in industry* 16 channels

Fastest in industry* Realized the minimum cycle time of 0.3 ms

*Regarding IO-Link Master, surveyed by OPTEX FA in November, 2021.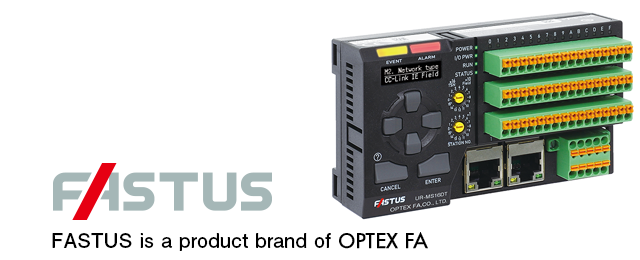 Choose the files and check the check-boxes. Multiple files can be chosen.
Download

Data

File Name

OPTEX-FA_UR_leaflet_78057.pdf:[1.78MB]

UR Series solution catalog

UR_Series_solution_catalog.zip:[1.77MB]

UR Series Instruction Manual

UR_Series_Instruction_Manual.zip:[3.40MB]

OPTEX-FA_UR_ manual_MS_UM-E-005.pdf:[5.68MB]

UR-ES_Users_Manual.zip:[13.76MB]

UR-MS IODD installation tool

IODD_installation_tool_for_UR-MS16DT.zip:[1.85MB]

UR-MS CC-Link IE TSN/CC-Link IE Field CSP+ files

CC-Link_IE_TSNCC-Link_IE_Field_CSP_files_for_UR-MS16DT.zip:[429.99KB]

UR-MS CC-Link IE TSN/CC-Link IE Field function block data

CC-Link_IE_TSN_CC-Link_IE_Field_function_block_datav_for_UR-MS16DT.zip:[17.54KB]

Management_tools_for_UR-ES16DT.zip:[19.98MB]

UR-ES CC-Link IE Field Basic CSP+ files

CC-Link_IE_Field_Basic_CSP_files_for_UR-ES16DT.zip:[34.29KB]

UR-ES CC-Link IE Field Basic function block data

CC-Link_IE_Field_Basic_function_block_data_for_UR-ES16DT.zip:[4.51KB]

UR-ES EtherNet/IP EDS files

EtherNetIP_EDS_files_for_UR-ES16DT.zip:[1.86KB]

EtherCAT_ESI_files_for_UR-ES16DT.zip:[1.66KB]

UR_Series_3D.zip:[1.55MB]

UR_Sereis_dxf.zip:[683.67KB]