Environmental resistance
OPTEX-FA is developing products considering various environmental resistance including IEC standard and internal regulations.

IEC 61000-4-2/Protection from electro static noise

Confirm that the sensors stand under following discharging in the air.

Protection from light noise from the sun or other equipment

Confirm that the sensors don't malfunction with light noise from the direction of 30 to 45 degree.
IEC 61000-4-3/Protection from electromagnetic noise

Confirm that the sensors don't malfunction under electromagnetic noise with frequency of 80MHz to 1GHz.

Protection from vibration

Confirm that the sensors don't malfunction with following vibration
IEC 61000-4-4/Protection from inductive noise

Confirm that the sensors don't malfunction nor break with inductive noise from e.g. relay switching, motor starting up, etc.

Protection from shock

Confirm that the sensors don't malfunction with following shock.
Approximately 50G (500m/s2), 3 times in each of the X, Y and Z directions
IEC 60529/Protection from dust and water

Confirm that the sensors don't malfunction under atmosphere with dust and water.

CE marking

The letters "CE" are the abbreviation of French phrase "Conformite Europeene" which literally means "European Conformity". The term initially used was "EC Mark" and it was officially replaced by "CE Marking" in the Directive 93/68/EEC in 1993.
Following shows examples.

EMC directive (2014/30/EU),
EN 61326-1: 2013,
EN 55011: 2009 / A1: 2010 Group 1, Class A

UL certification (Canada, USA)

UL certification is needed for products sold in the north America. UL is one of several companies approved to perform safety testing by the US federal agency Occupational Safety and Health Administration (OSHA). OSHA maintains a list of approved testing laboratories, which are known as Nationally Recognized Testing Laboratories.

UL94 Flammability rating -> 94V-0

OPTEX-FA's sensor has housing made with flame-retardant material. Even if internal devices got flame, the housing won't go fire.

UL VW-1

OPTEX-FA's sensor has cables satisfy this Flammability rating.

Applicable product for each regulations and standards

*Ask our representatives about detail if needed.
VDE standards
Products to be designed not to affect any electric shocks, fires and any harms to other objects rather than itself even if the products got any problems.
Following is the standards that OPTEX-FA's products apply.
VDE0110/0160 protection class 2
CCC certification (China)
CCC (China Compulsory Certificate mark) commonly known as a CCC Mark, is a compulsory safety mark for products imported, sold or used in the Chinese market. It was implemented on May 1, 2002 and became fully effective on August 1, 2003.

The IP Code, International Protection Marking, IEC standard 605 29, classifies and rates the degree of protection provided against intrusion (body parts such as hands and fingers), dust, accidental contact, and water by mechanical casings and electrical enclosures. It i s published by the International Electrotechnical Commission (IEC). The equivalent British stand ard is EN 60529. JIS standards show almost same.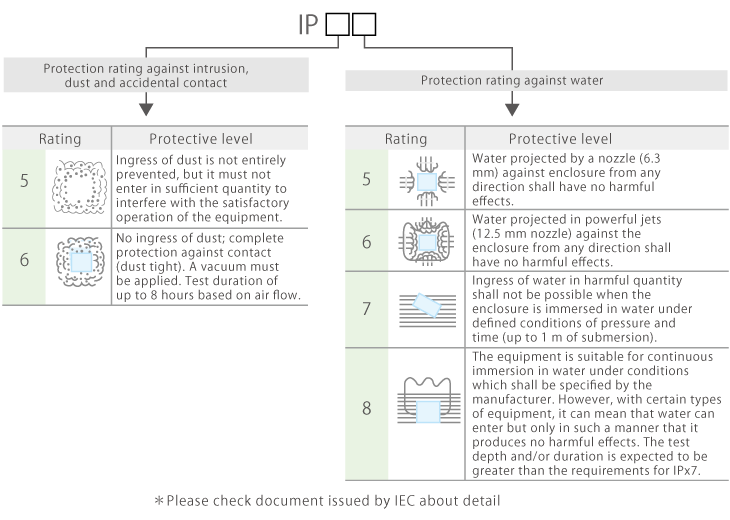 IP69K
IP69K is an rating of German standard DIN 40050-9 extends the IEC 60529 rating system for high-pressure, high temperature wash-down applications.
IP69K

Test condition:
A sensor on the turn table that rotates 5 times per minutes.

Pressure: 80~100bar
Flow rate: 14~16 liter/minute
Temperature: +80℃ / -5℃
Distance from nozzle: 100~150mm
Nozzle angle: 0°, 30°, 60°, 90°
Testing period: 30sec per every angle

IP69K doesn't mean to guarantee that the sensor works under the test condition above. The sensor won't work correctly when the lens gets wet and. the light is refracted.

Japan Electrical Manufacturers' Association standards JEM1030